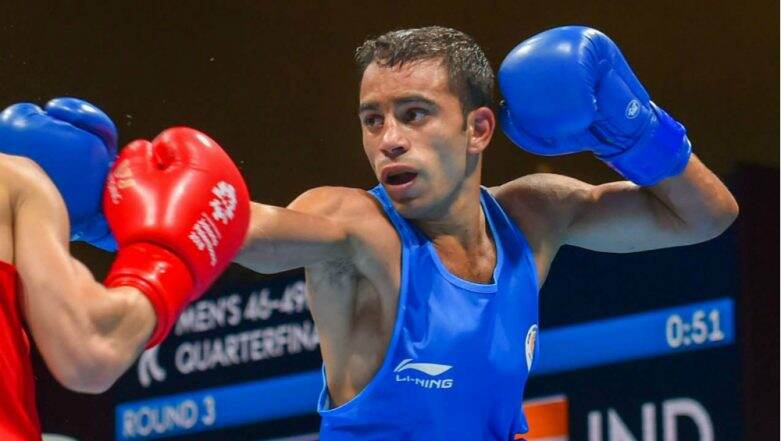 India's Amit Panghal has scripted history at Asian Games 2018, by winning a Gold Medal in Men's Boxing 49kg event. The victory was even more special for the Indian boxer as his opponent, Uzbekistan's Hasanboy Dusmatov, a former Olympic Gold medallist. India beat Uzbekistan 3-2 in Boxing's Gold Medal match in the 49kg category.  Asian Games Medal Tally 2018: Amit Panghal Wins GOLD in Boxing 49kg, India Surpasses 2014 Asiad Total Medal Count in Countrywise Table at Jakarta Palembang.
On the 14th day of Asian Games, India's Amit Panghal helped India add another Gold Medal to its tally as he beat his opponent comprehensively in Boxing event. In the first round, Amit showed a promising start standing toe-to-toe the former Olympic champion, who also happens to be a World Champion in the same category. It was during the break time that the Hasanboy was seen a little nervous in his corner. Asian Games Medal Tally 2018 Updated: Amit Panghal Wins Gold, Takes India's Medal Tally to 66 in Current Table and Country-Wise Medal Standings.
In the semi-final yesterday he knocked out Philippines' Carlo Paalam in a 3-2 split verdict. Earlier on Friday, Amit saw off a tough challenge from Carlo Paalam of the Philippines to clinch a 3-2 victory in the semi-finals.
The Haryana pugilist was expected to face an extremely difficult task in the final as he was up against reigning Olympic champion Hasanboy Dusmatov of Uzbekistan, but it turned out to be too easy for Indian boxer in the end.