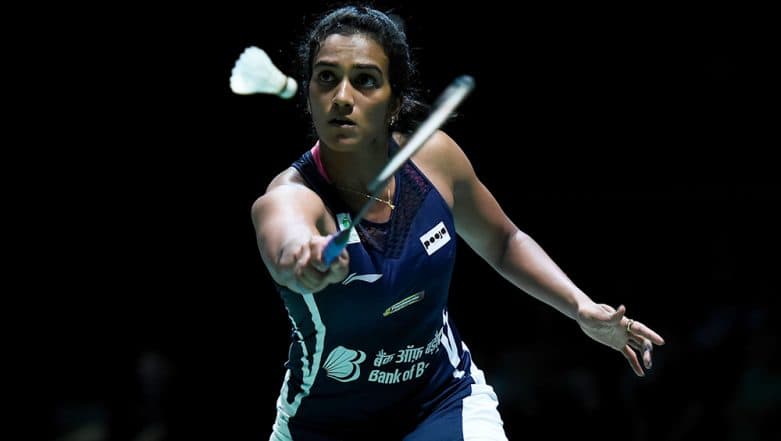 PV Sindhu survived a Tai Tzu-Ying storm before overcoming her in a three-set thriller to advance into the semi-finals of BWF World Championships 2019. and assure herself of a fifth World Championship medal. Sindhu, who is still chasing her maiden gold in the tournament, bounced back from an opening set defeat to eventually beat her Chinese Taipei opponent 12-21, 23-21, 21-19 and live up to her reputation of a big tournament player. Saina Nehwal Slams Umpiring Standards After Exit From BWF World Championships 2019.
It didn't look like she could stand Taoi Tzu-Ying when the former world number one blitz past Sindhu in 15 minutes to a 1-0 lead. Sindhu lost the opening game 12-21 not able to hold herself against the quick and smashing second-seeded Chinese Taipei opponent. But Sindhu came back heavily and took the game to three-sets before emerging victorious after an hour and 11 minutes of a nerve-wracking and exhausting game.
Sindhu will now face the winner of the Quarterfinal encounter between fourth-seed Chinese Chen Yu Fei and Mia Blichfeldt of Denmark. Blichfeldt knocked out Sindhu's compatriot Saina Nehwal in the last round. The victory also ensured a fifth World Championship medal for the 24-year-old Indian shuttler. Sindhu has so far won two bronze and two silver medals in the event ever since making her first appearance in 2013.
She looked out of place in the first set with Tai Tzu-Ying running to a comfortable victory after leading 11-4 at the break. But Sindhu, who looked sluggish towards the closing stages of the opening game, was determined to bounce her way back into the game. A 38-shot rally earned the first point of game two.
Sindhu took a 2-0 lead only for Tai to fight back at 8-5. But the Chinese Taipei's unforced errors added to some brilliant smashes by Sindhu gave her five straight points. Among them, Sindhu's body-line smash, right after the break in the second set, stood out. The second set looked sealed at 20-18 but once again Tai saved two match points and took the game to a tie-breaker. But Sindhu held on to win 23-21.
Both of them were chasing their maiden crown at the World Championships and it showed in the desperation they displayed in this thrilling encounter. Tai led Sindhu 10/4 before this defeat but Sindhu had beaten at the 2018 World Tour Finals, which was also the last time both players met in a tournament. However, unlike Sindhu, Tai is yet to win a single World Championship medal.
Desperate to add the prestigious title to her hat before calling it quits, Tai set the barometer straight in the third and deciding set. And once again it looked like the game was back to the opening set. Tai Tzu-Ying was dominant and looked herself again, while Sindhu was subdued and found it tough going.
Tai led initially but Sindhu wasn't behind by much. The Chinese Taipei legend lead at 7-3 and despite a slight drop, she was still leading at 14-12. But Sindhu took to smashing and with two powerful smashed down - one missing Tai's head by little - brought the game to a level. The game went on with equal scores til 17-17 before raced two a two-point lead.
But this time Tai levelled it back before another of Sindhu's powerful smash took her to match point. Tai, by now realising that the game that looked hers to take after opening 15 minutes was slipping away, resorted to power instead of the usual nibble movements and ended up hitting the shuttle bird out wide. Sindhu progressed into the semis. In her celebratory spirit, she laid down on the ground and pumped her fists in the air.