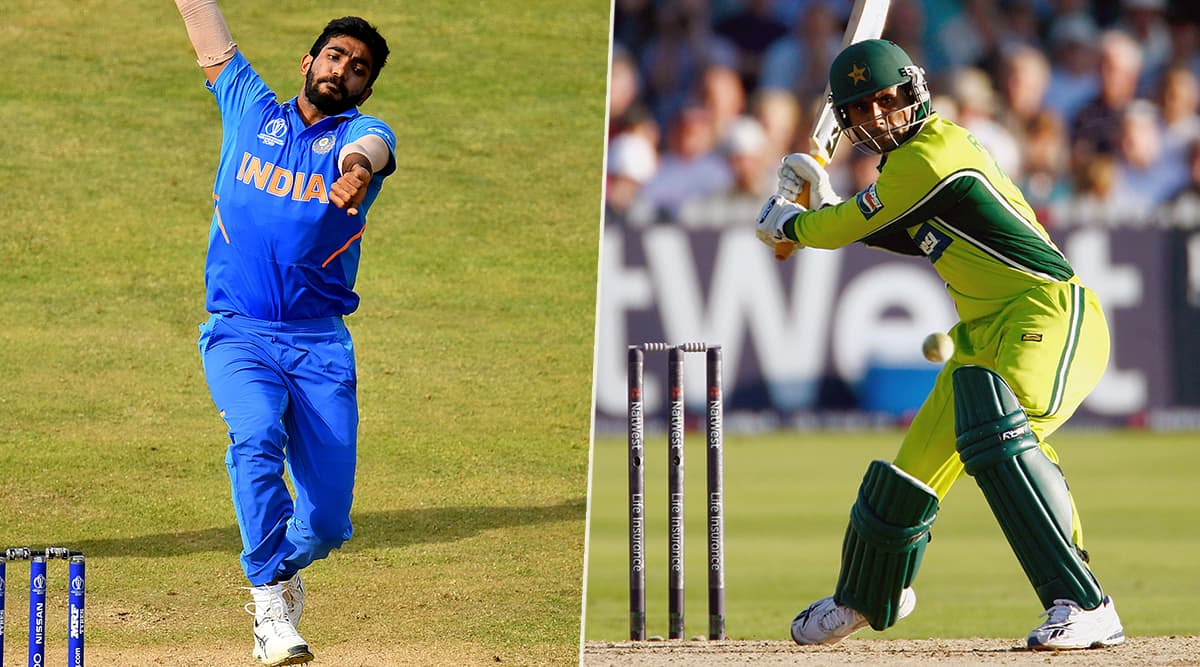 Jasprit Bumrah may have been out of action since August 2019 but the Indian pacer remains the world's best ODI bowler in the 2019 ICC ODI rankings for bowlers. Bumrah, considered to be one of the best fast bowlers in limited-overs cricket and the among the best death bowlers, is also ranked 5th in the bowling ICC Test rankings. His performances, tenacity with the ball and the ability to pull out a devastating Yorker anytime, had put him on level with the best bowlers. Former Pakistan all-rounder Abdul Razzaq thinks otherwise. The 40-year-old, former Pakistan cricketer terming Bumrah a 'baby bowler' claimed that would thrash Bumrah all over the park and would easily dominate him. Jasprit Bumrah Hits the Gym As He Returns From Injury, Watch Video of Indian Pacer's Intense Workout.
In an interview to Cricket Pakistan, Razzaq opened up cricket, life as a cricketer and life after it and also cricket in the past decade. One of Razzaq's most popular and breath-taking innings came in a T20I against England when he blasted debutant Ajmal Shahzad for 17 runs in six deliveries to guide Pakistan to a famous victory. Asked how he would plan if 15 runs were needed in an over and Jasprit  Bumrah was on the other hand? Razzaq replied, "For someone to have faced some of the world's best bowlers facing Bumrah will not be a big deal. I have played legendary bowlers like Glenn McGrath, Wasim Akram or Shoaib Akhtar and when you play them, you gain confidence.
Abdul Razzaq Talks Cricket
"Bumrah will be a 'baby bowler' for me. I would have easily dominated him. He will under more pressure knowing this batsman has already faced some of cricket's best fast bowlers." But having said that Razzaq also praised the No 1 ranked ODI bowler and called him the best among the current crop of fast bowlers.
"Bumrah is a good bowler. He has improved a lot to become the best among the current crop of players," added Razzaq. Crediting the 25-year-old's success to his unconventional action, Razzaq said, "He has an awkward action, and he runs awkwardly, but his ball release is tremendous. It falls on the seam. Hence, he is effective."
Razzaq, who represented Pakistan in 265 ODI matches and finished with 269 wickets, while also scoring over 5000 ODI runs also picked on cricketers of this generation. Ruing at the lack of quality cricket and world-class cricketers in this era, he said: "Real Cricket was played between 1992 and 2007. During that period, cricket was full of legends and world-class players. The quality in cricket has now gone down. There are no longer world-class players in cricket. There is no depth in bowling, batting and fielding, everything in cricket is about basics now."
Razzaq also blasted Pakistan national cricket team for selecting players based on how they fared in training sessions. "In the last 10 years of so, players and young players especially have been selected into the Pakistan national cricket team based on how much they troubled the senior batsmen in the training/practise sessions. The national selectors and captains must understand that bowling in a practise session and bowling in a match are two different entities. Players have been pushed into the national team, not because of their superiority in skills and skillset but only because they managed to trouble the batsmen once or twice in training sessions. That shouldn't be the criteria.
Abdul Razzaq, Former Pakistan All-Rounder Reveals He Had "5–6" Extramarital Affairs
"Young bowlers such as Naseem Shah are good talents and must be nurtured. If you push young players straight into the senior team and give them bigger responsibilities, they will break down. Hassan Ali was one victim of such tactics. He started so well but is out of the team. Many others have come and gone, but these people do not realise where the problem is," Razzaq, 40, added.
He also refused to put Virat Kohli in the same category as Sachin Tendulkar. "There are no world-class players in this era. If one cricketer plays well there is no one, who can compete with him, said Razzaq. "If Kohli scores, he keeps on scoring. He is definitely a good batsman and is performing consistently but you cannot place him in the same category as Sachin Tendulkar."