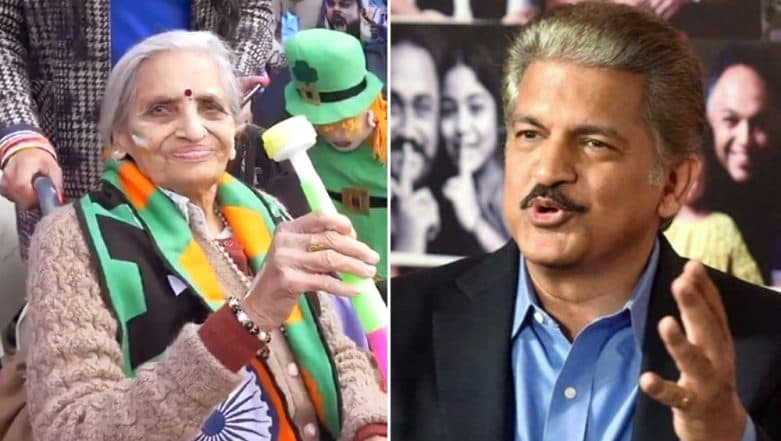 Indian Business tycoon Anand Mahindra congratulated the Virat Kohli-led Indian team on Twitter after India's victory over Bangladesh in ICC Cricket World Cup 2019 encounter on Tuesday. The chairman of Mahindra group was also won over by an old female fan of the Indian team, Charulata Patel, at the Edgbaston stadium during CWC 2019 India vs Bangladesh match and has promised to sponsor her tickets for the semi-final and final matches of World Cup 2019 to watch India play. Virat Kohli, Rohit Sharma Meet 87-Year-Old Team India Fan Charulata Patel After India Makes it to CWC 2019 Semi-Finals With Win Over Bangladesh (Watch Video)
In a post, Mahindra mentioned that he wishes to see Patel attend the semi-finals and final, and expressed the desire to pay for her tickets when a fan asked, "why not sponsor her tickets". "Ok, watched the last over & it had all the drama I needed. The best victories are those that make you bite your nails at 1st & then make it look easy in the end. Shabash, India & make sure this match-winning lady is present at the semifinals & finals...give her a free ticket!", the Indian businessman wrote. Virat Kohli Instagrams Photo With Charulata Patel, 87-Year-Old 'Young' Fan After India's Win Over Bangladesh in CWC 2019 Match
This is What Mr Anand Mahindra Tweeted After Watching This 87-Year-Old Die-Hard Team India Fan
As per my tradition, I wasn't watching the match 😊 But I'm going to switch it on now just to see this lady...She looks like a match winner.... https://t.co/cn9BLpwfyj

— anand mahindra (@anandmahindra) July 2, 2019
And when a Twitter user asked him to sponsor Charulata Patel's tickets for the semi-final and final matches, Mahindra instantly promised to reimburse her tickets.
Have a look at Mahindra's Twitter post below.
Find out who she is & I promise I will reimburse her ticket costs for the rest of the India matches!😊 https://t.co/dvRHLwtX2b

— anand mahindra (@anandmahindra) July 2, 2019
The 87-Year-Old Charulata Patel became the star of the show at India vs Bangladesh ICC Cricket World Cup 2019 game after the old lady was seen cheering for India among the crowd present at Edgbaston Stadium in Birmingham. The match saw India emerging champions by 28 runs with fixing their spot in semi-finals, while Bangladesh getting knocked out of the tournament.
Virat Kohli and Rohit Sharma also met Patel after the match, greeting and thanking her for the support and taking her blessings. The photos of the Team India's super fan is also doing the rounds on the social media, with everyone pleased with her love for cricket and the Indian team. She is now being called 'Cricket Dadi' on social media. Moreover, Virat Kohli also shared a photo with Patel on his Instagram account.
Have a look at the post below.
Patel was seen cheering enthusiastically throughout the match between India and Bangladesh. She blew a yellow vuvuzela like a child on every boundary that India scored. She also had the Indian flag painted on her cheeks and a tricolour with her, which she waved as India's beat Bangladesh in the match.