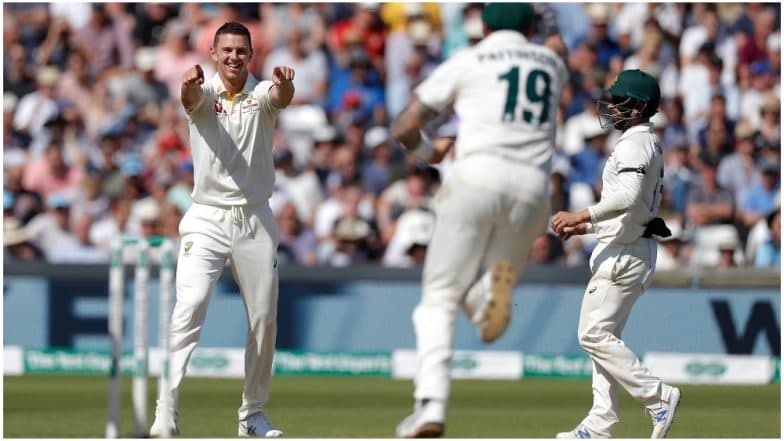 England fell to their eighth-lowest Ashes total after being bundled for 67 in just 27.5 overs in their first innings in the 3rd Test at Headingley cricket ground in Leeds. The total was also England's worst total in an Ashes innings since 1948 when they were skittled for 52 runs at the Oval. Josh Hazlewood claimed his five-wicket haul in Test matches as only one batsman managed to score in double figures while the other 10 fell for single-digit scores. Twitter brutally trolled England for their failure to take the lead despite bowling out Australia for 179 in the opening day. Australia vs England Live Cricket Score 3rd Test.
England lost as many as six wickets in the first session of Day 2 at Leeds with Hazlewood taking three of those six including English skipper Joe Root for a two-ball duck. Joe Denly was the top scorer for England with a 49-ball 12 runs before James Pattinson had him caught by Tim Paine. Pattinson finished with two wickets to his name, while Pat Cummins claimed a three-fer. Ashes 2019, 3rd Test: Jofra Archer Shines As Australia Dismissed for 179 on Rain-Affected Day 1.
England's Batting Performance Shock Fans
#ENGvAUS 😱😱😱😱😱 pic.twitter.com/DFbwpFrnTA

— 🏴󠁧󠁢󠁥󠁮󠁧󠁿steve patrick (@SPQPR1) August 23, 2019
Embarrassing!!
Catching some comedy at the @edintfest. Some guy just came away with the best joke of the Festival: England all out for 67 against Australia. Side-splitting 😂. #ENGAUS #ENGvAUS @bbctms Embarrassing doesn't quite cover it.

— Scott Mackay (@McClueless) August 23, 2019
What's the Score?
@MichaelVaughan @KP24 @JofraArcher 🤫🤫🤫#Ashes #ENGvAUS pic.twitter.com/yraXipPSM7

— RICKY (@RVchowdary14) August 23, 2019
Marnus Labuschagne Better Than England
Lol 😂😂 #Ashes19 #ENGvAUS pic.twitter.com/HzAxivzDiR

— Vicky (@vicreddevil) August 23, 2019
England!! Don't Forget
Which team gets out below 100 this consistently these days? @MichaelVaughan @englandcricket #Ashes #engvaus pic.twitter.com/cB56C9ilEA

— Praveen (@praveendutt) August 23, 2019
A Completed Cricket Innings That Fits Into a Tweet
A completed Test innings that fits into a tweet - never a good thing! 🙁

| #ENGvAUS | #Ashes | #Ashes19 | pic.twitter.com/jugd5zSqvw

— Cricket Afridi (@CktAfridi37) August 23, 2019
England's Lowest total Against Australia Since 1948
Woeful England post lowest total against Australia since 1948#ENGAUS #Ashes19 #Ashes2019 #Ashes #ENGvAUS pic.twitter.com/badJDy5V2B

— Sangbad Bangla (@sangbadbangla24) August 23, 2019
Records You Don't Tell Others
It's also England's 7th lowest score in any Ashes test match.#Ashes #ENGvAUS #Cricket pic.twitter.com/fkEmy4Ie0J

— Lachlan McKirdy (@LMcKirdy7) August 23, 2019
Awful Performance
Simply awful batting performance. Just wow England. Wow. #ENGvAUS #Ashes19

— Habib Nasib Nader (@habibnasibnader) August 23, 2019
Their embarrassing collapse saw Australia claim at 112-run lead heading into the second innings and favourites to retain the Ashes. Australia already lead the five-match Ashes Test series 1-0 after thrashing the world champions by 251 runs in the opening game. The second game ended in a draw.
The 45 that England managed at Sydney in 1887 is their lowest ever Ashes score, while 52 at Oval in 1948 is England's lowest Ashes total at home. 67 is the eighth overall lowest total fourth-lowest inning score at home.