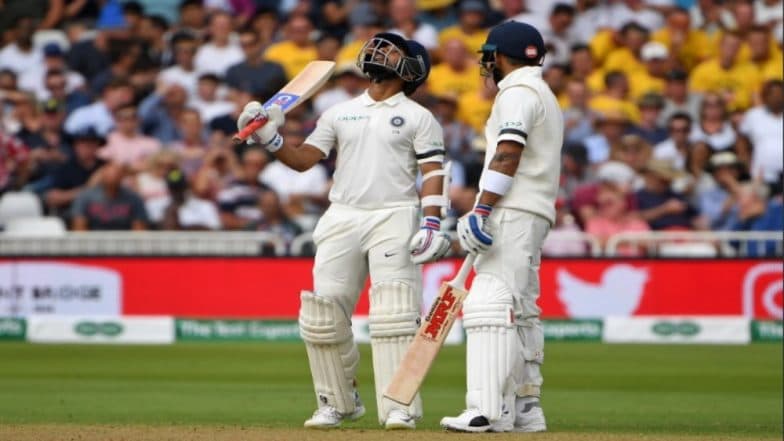 With almost zero expectations from Indian fans, Team India stepped on to the Trent Bridge stadium in the third test with England. For the starters, India made three changes in the side. 20-year old Rishabh Pant was handed over the debutant Test Cap. He made way for Dinesh Karthik, Shikhar Dhawan and Jasprit Bumrah got the spot in the team. No cricketer left an opportunity to take a jibe at the Indians for their performances, In fact, even Michael Holding took a dig at the Indians who were spotted wearing a black band on their sleeve, as a mark of respect for the last cricketer Ajit Wadekar. Coming back to the match England lost the toss and invited the hosts to bat first. The best part about the game was that the batsmen exhibited grit and intent on the pitch unlike the previous two encounters with England.
Both Shikhar Dhawan and KL Rahul contributed with 60 runs and gave a fair start to the team. Both kept rotating the strike on the pitch which had movement. With 35 runs of 65 balls, Shikhar Dhawan got out hitting 7 fours. Next one in line was KL Rahul and then Cheteshwar Pujara. All the three wickets were taken by Chris Woakes and the first session was dominated by England. Looked like history was once again going to repeat itself as the top order collapsed one after the other in the span of 8 overs. But once Ajinkya Rahane and Virat Kohli took the field, nothing could stop them. They batted as if they had come here to score and both refused to give up displaying nerves of steel. England pace batteries Stuart Broad, James Anderson, Chris Woakes looked like toothless tigers in the second session of the Day 1 as no tactics could stop the duo. Both the captain and vice-captain got their half centuries and with this, India dominated the second session of the Day 1. (Check out the video highlights of the match here).
But this time it was Stuart Broad who bowled outside off and Rahane made a mistake with Alastair Cook plucking out his left hand and grabbing a brilliant catch. Rahane departed on 81 off 131 balls. A while later, the Indian captain Virat Kohli also played the outside off ball and Ben Stokes in the first slip grabbed it. With this Virat Kohli just fell short by 3 runs for his 23rd test century. Newbie Rishabh Pant opened his account with a fantastic six and Hardik Pandya who came in at number six got out on 18 from 58 balls. By the end of the day, India is at 307/6. So overall it has been a fantastic day for India!