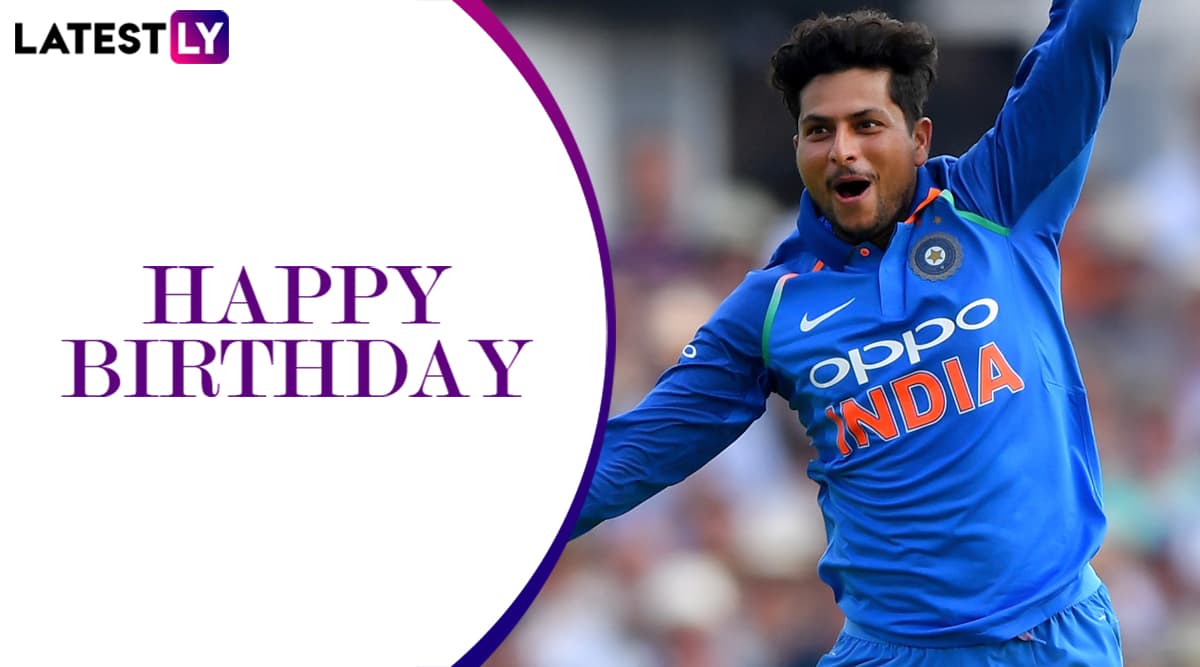 Kuldeep Yadav celebrates his 25th birthday on December 14, 2019 (Saturday). Born in 1994, Kuldeep made his India debut in 2017 and since then he has not looked back. He remains India's second bowler after Bhuvneshwar Kumar and only third spinner to take a 5-wicket haul in each of the three formats of the game. But interestingly, Kuldeep started out as a fast bowler. He joined a cricket academy in Kanpur and inspired by Wasim Akram and Zaheer Khan, Kuldeep dreamt of representing India as a left-arm seamer but was discouraged from doing so by his coach Kapil Pandey. Given Kuldeep's slight built, the coach felt that he was ill-suited for fast bowling and insisted him to become a spinner. Kuldeep went on to become a rare left-arm unorthodox wrist-spinner for India and the rest is history. On his 25th birthday, let's take a look at some of his best performances. Kuldeep Yadav Birthday Special: 7 Interesting Facts About the Chinaman Bowler as he Turns 25.
Life as a cricketer was, however, difficult to start with for a young Kuldeep Yadav. He was not selected for the Uttar Pradesh Under-15 team and contemplated not only leaving the game forever but was the grief of missing out was so deep that he even though of committing suicide. Things, however, changed for the good when Mumbai Indians picked up an 18-year-old unknown Chinaman bowler for their Indian Premier League (IPL) franchise team in 2012.
Kuldeep didn't play a game and two years later was signed up by Kolkata Knight Riders. By then, he had already started playing List-A cricket for Uttar Pradesh. Kuldeep also represented India in the 2014 ICC Under-19 Cricket World Cup in 2014 and took a splendid hat-trick against Scotland before making his India debut three years later.
4/68 Against Australia in Dharamsala
A dream debut for a 23-year-old bowling sensation. Australia had won the first game by 333 runs and India fought back with a 75-run win in the next Test. The series was poised at 1-1 when Kuldeep Yadav made his international debut in the deciding Test. Australia opted to bat first and David Warner, Steve Smith were set for big scores when the first session ended, Enter Kuldeep Yadav. Warner was the first to go after edging to Ajinkya Rahane at first slip, handing Kuldeep Yadav his first Test wicket. Peter Handscomb, Glenn Maxwell and Pat Cummins followed. Two bowled and one caught by himself. Kuldeep ended the day with figures of 4/68 and India won the Test by 8 wickets.
3/54 & a Hat-Trick Against Australia in Kolkata
He had made 7 ODI appearances until now and looked the bowler India so desperately needed after Ashwin, Jadeja pair. At the Eden Gardens, Kuldeep Yadav became just the 3rd Indian bowler to take an ODI hat-trick after Chetan Sharma and Kapil Dev. Kuldeep had 13 wickets in 7 ODI matches since then and in Kolkata, he ripped through Australia's lower order going through Matthew Wade, trapping Ashton Agar and having Pat Cummins caught behind in three successive deliveries to achieve a remarkable feat of completing an ODI hat-trick. The Eden roared and cheered in unison celebrating Kuldeep's success as its own. India won by 50 runs took 2-0 lead.