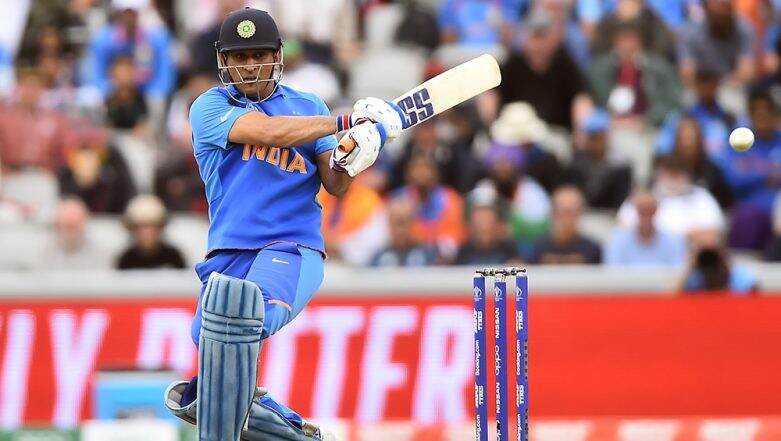 Virat Kohli tribute to MS Dhoni has sparked retirement speculations of the former Indian captain, who according to many sources, have called for a press conference at 7 pm on September 12, 2019 (Thursday) where he is supposed to announce his immediate retirement from international cricket. The news has spread like fire on social media with many calling this day as a "Black Day" in Indian cricket. Dei-hard Dhoni Fans and netizens across the country have already started mourning the possibly upcoming retirement of India's most successful ODI captain ever. MS Dhoni Retirement Press Conference Rumours Go Viral After Virat Kohli Shares Throwback Picture With MSD on Twitter!
Dhoni captained India to their only second ODI World Cup and first at home in 2011 playing a magnificent inning of 91 runs against Sri Lanka. His contribution in the 2011 final at Wankhede is regarded to be among the greatest World Cup inning ever played. Dhoni also remains the only international captain to lift both the Twenty20 and the 50 over World Cup. He led India to their on T20 World Cup title in the inaugural edition of the tournament in 2007.
Virat Kohli Pays Tribute to MS Dhoni
A game I can never forget. Special night. This man, made me run like in a fitness test 😄 @msdhoni 🇮🇳 pic.twitter.com/pzkr5zn4pG

— Virat Kohli (@imVkohli) September 12, 2019
But there remains more to Dhoni than as a successful captain of India. As a batsman, he is revered among the world's greatest ever finisher in limited-overs cricket. His ability to finish off an innings with a gigantic six– remember 2011 World Cup final – is praised and seen as a rare quality. No other batsman has guided their teams to victory with a six as many times as the Thala of Indian cricket.
Stay for Two More Years
#Dhoni why men @msdhoni please don't announce retirement, u still have so much cricket left in you.u r still va powerhouse for our Indian team. I hope you won't announce Retirement.u know what's best for you, it's your decision. But please stay atleast for next 2 years. #Thankyou

— Raghuwanshi Mayank walya (@WalyaMayank) September 12, 2019
The Six That Handed India A World Cup Hit
No! Really, No!

#Dhoni pic.twitter.com/KriMuWjQIC

— ARVIND AKSHAY (@God_Of_Pot) September 12, 2019
Fans and Reactions!!
#Dhoni pic.twitter.com/doEQLJCG49

— 🇮🇳 Anjali Pundir 🇮🇳 (@anjali_pundir) September 12, 2019
MSD Forever
Do you want @msdhoni to retire from cricket?

RT🔁- NO

Like❤️ - Yes pic.twitter.com/xHxjJZgqff

— Prakruti (प्रकृति) (@PrakrutiTweets) September 12, 2019
We Are Not Prepared
We were never prepared for Sachin's retirement and the same is happening in Dhoni's case. I guess with players like these, we will never be. #Dhoni

— Sachin Kulkarni (@sachin_sk07) September 12, 2019
The Best Indian Captain
@msdhoni , the best Indian captain#Dhoni #dhoniinbillionhearts 🙏 pic.twitter.com/751Bm1AOh7

— ANUSHMITA 🐼 (@anushmita7) September 12, 2019
Our Idol!!!
No matter you play cricket or take retirement! You was my idol You are my idol You will be my idol always #Dhoni pic.twitter.com/xXSR6HA9HH

— Reetesh dubey (@dubey_reetesh) September 12, 2019
All of Us Are Already Crying
#Dhoni pic.twitter.com/h1ScAU0l7X

— Sanjana Kangil (@0okay_then) September 12, 2019
A True Legend
17000+ Runs- As Batsman

800+ Dismissals- As wicket Keeper

3 ICC Trophies- As Captain

Truely a Legend #Dhoni pic.twitter.com/NBJH1bqNez

— Trilok Singh.🇮🇳 (@singhtrilok7) September 12, 2019
Black Day!!
MS Dhoni today eve retirement announcement??

Black day!!

🙄🙄#Dhoni pic.twitter.com/IPSjWj3L1N

— SarvanLSR (@sarvan_lsr) September 12, 2019
Forever Dhonism!!!
Forever dhonism 🔥🔥🔥🔥#Dhoni pic.twitter.com/e92YwRwWbL

— Dr. selvaram (@selvaram14) September 12, 2019
Dhoni is also the highest run-scorer in ODIs for batsman batting at no 6 or below. With 10, 773 runs in 350 One-Day Internationals, he is also India's fourth-highest ODI run-scorer and 12th overall highest run-scorer in ODIs.