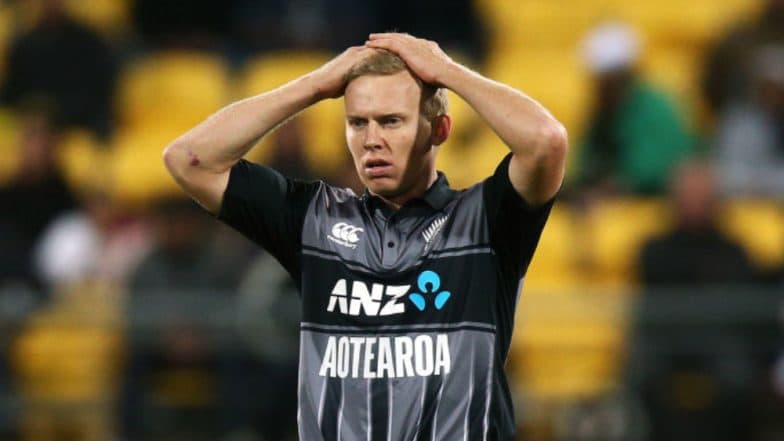 New Zealand Cricket and the officials at the Westpac Stadium have admitted that it a wrong move to get a banner removed which promoted sexual consent during the first T20I between India and New Zealand in Wellington. A banner which read, "no means no", was displayed by a fan in the crowd. It was aimed at New Zealand all-rounder Scott Kuggeleijn, who was accused of raping a woman in 2017. IND vs NZ 2nd T20I 2019 Match Preview: India Face Must-Win Situation vs New Zealand.
"My friends and I were surrounded by multiple security guards. It was a very uncomfortable experience. They acknowledge (stadium officials )they didn't do the right thing in this instance and are committed to ensuring it won't happen in future. I'm really heartened by how responsive they've been and hope everyone can have a fun, safe time at cricket in the Cake Tin in future," the woman who was holding up the sign was quoted as saying by Stuff.
Meanwhile, Richard Boock, New Zealand Cricket's public affairs manager has said that the action taken was unnecessary as the message displayed was not offensive in nature. "We agree the course of action taken was an overreaction and unnecessary, and that the message certainly wasn't offensive. NZC has a venue policy that does not allow the targeting of players – but policies are guidelines; they're not written in stone, and we should have shown better judgment and exercised more discretion," he said.
"We apologise unreservedly and will be discussing this in our debrief with a view to avoiding similar mistakes in the future," Boock added. Need to Make Sure Team Doesn't Repeat Mistakes: Krunal Pandya, After India Loses 1st T20I Against New Zealand
New Zealand won the first T20I by 80 runs. Kuggeleijn had a decent outing with the bat as he scored valuable 20 runs off seven balls down the order. He, however, went wicketless and gave away 34 runs in his two overs.