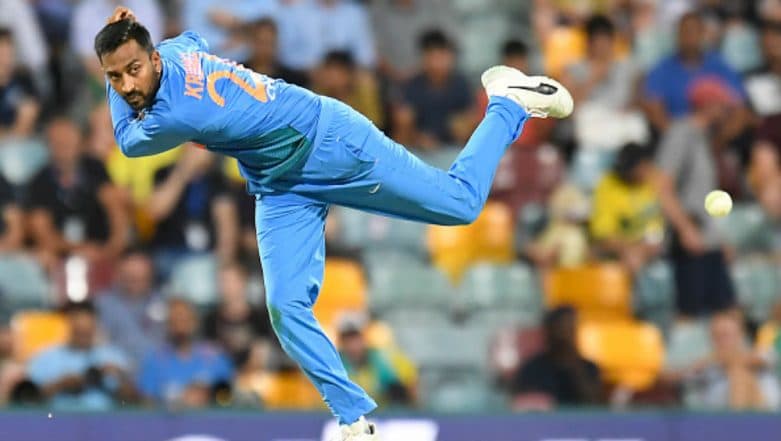 Wellington, February 6: In the backdrop of India's record defeat against New Zealand in the opening T20I, all-rounder Krunal Pandya said that they have got everything that a team should have, but need to make sure not to repeat mistakes. "We have got everything that a team should have- batting, depth, bowling options. It was one of the bad days. We would look to improve and not repeat the mistakes," Pandya said in a post-match press conference.
Talking about the team's performance, Krunal said that the Indian bowlers gave too many runs in the middle overs that cost them dearly. He, however, credited the New Zealand batsmen for putting up a great show. "Whenever you are chasing 200, it is not easy. Initially, we gave runs and leaked runs in middle overs, as well. When it comes to chasing, it is difficult to chase 200 plus no matter how the wicket is. Scoreboard pressure is also there," he said. India vs New Zealand 1st T20I 2019: Black Caps Hammer Men in Blue by 80 Runs, Leads 3-Match Series 1–0.
"They (New Zealand) batted well and we bowled loose deliveries. It (the defeat) was a combination of both," he added. India lost the first T20I against New Zealand by 80 runs, which is their biggest in terms of runs. The teams will clash for the second T20I of the three-match series on February 8 at the Eden Park.
(This is an unedited and auto-generated story from Syndicated News feed, LatestLY Staff may not have modified or edited the content body)