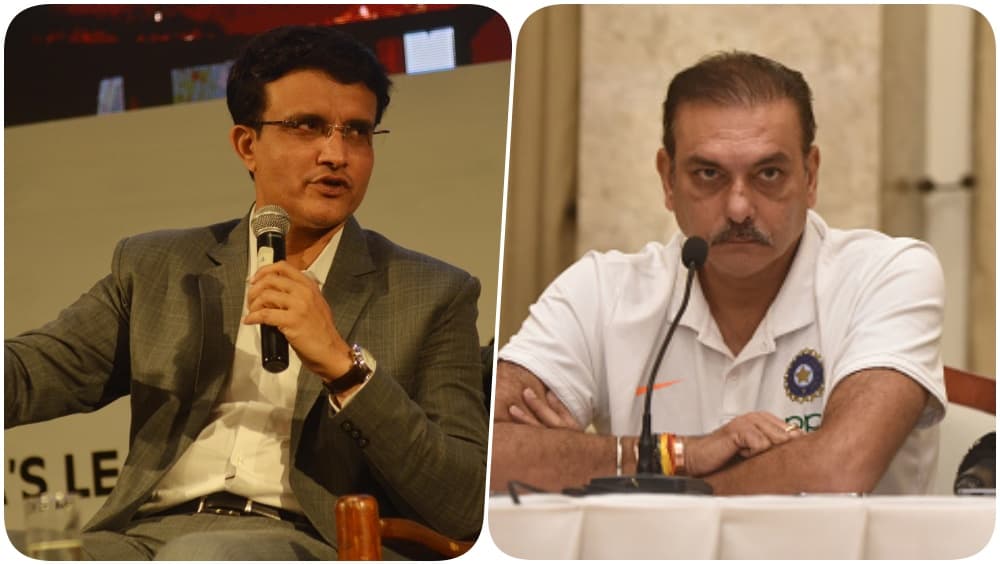 Sourav Ganguly reportedly turned the tide and is all set to be the new President of the BCCI. According to reports, Brijesh Patel will be the IPL Chairman and Jay Shah could become the Treasurer. Now, amidst the news of the former Indian captain taking over the BCCI office as the President, Ganguly fans have already started celebrating the Bengal Tiger's victory. Now, in the course of celebrating his win, a few of them even trolled the Indian coach Ravi Shastri and asked him, 'Ab tera kya hoga?'  BCCI Polls: Sourav Ganguly Likely to Be President, Brijesh Patel IPL Chairman
Shastri and Ganguly have never gotten along with each other. If one may recall, the two were at loggerheads when Shastri was contesting for the position of a coach and the committee chose Anil Kumble for the position. Shastri then accused Ganguly for being absent during his interview and ever since the two have never left a single opportunity to take a jibe at each other. Now, with the news of Ganguly bearing the BCCI office as the President, takes a centre stage, the netizens have trolled Ravi Shastri with hilarious memes. Check them out below:
Tera kya hoga?
RAVI SHASTRI- Tera kya hoga 🤣🤣🤣🤣🤣 ....All said and done...Indian Cricket will reach new heights now... CONGRATULATIONS @SGanguly99 https://t.co/hOsSs4kU3V

— Tejas Modi (@tejasjmodi) October 14, 2019
Another meme
Ravi Shastri right now #SouravGanguly pic.twitter.com/ML63sQEbxk

— Bαℓαנι (@BJTweets201) October 14, 2019
RIP video conferencing
RIP Video Conferencing! #RaviShastri #Ganguly https://t.co/SfP0ceERuu

— Siddharrth Jain (@TweepleLeaf) October 14, 2019
Funny meme
Le Ravi shastri : pic.twitter.com/jfFgYxtrjN

— Murari jha (@Murari_jha07) October 14, 2019
Phewww
Now Ravi Shastri : Gote mume aane wale hai ab to

— rahul jain (@rahulja71636072) October 14, 2019
We are fed up
🥳🥳🥳🥳 Dada please re examine the selection of Ravi Shastri we are fed of him don't on what basis he and his coterie retain their tenure 😔

— Samir Jha🇮🇳 (@samir26_01) October 14, 2019
Opppss
#SouravGanguly to contest for BCCI President 👏🏻

Can't imagine Ravi Shastri's face right now 😄😊☺

— Deepti Panthi💧 (@DeeptiPanthi5k) October 14, 2019
Last one
Congrats dada @SGanguly99 for elected as BCCI president. I still remember how you were sacked by BCCI when you are Captain. Now u are President of BCCI. #World_is_round.

— Sanjib Paudel (@Sanjibwrites) October 14, 2019
"The old warhorses felt that the way forward was to have equal representation, and while only five names can be given for the top spots, the Apex Council will also see a similar widespread representation. The idea is to give people their right to express themselves," a BCCI functionary told IANS.