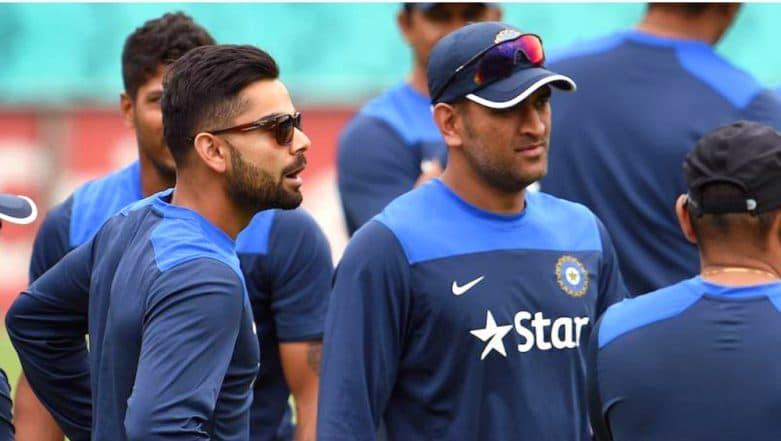 Former Indian cricketer Ajay Jadeja is of the view that MS Dhoni should take over as the captain on the team for the ICC Cricket World Cup 2019, which starts in May in England. Jadeja feels Dhoni is a better captain than current skipper Virat Kohli and for World Cup purpose only the former should be once again handed the responsibility. Ind vs Aus ODI Series: Kedar Jadhav Says He Blindly Follows MS Dhoni, Watch Latest Episode of Chahal TV.
The former cricketer during a show on a cricket website expressed his views while narrowing down on players who could be part of the Indian squad for the ICC Cricket World Cup 2019. "If there is anyone in this world who thinks Kohli's captaincy is better than Dhoni's, please come and debate with me," Jadeja said in one of the Cricbuzz's show.
"If you see, this is only the team for the World Cup, not the future. We have now come to that stage [of the World Cup]. When the planning happened to make Kohli the captain, it was with an eye towards a future without Dhoni," the former middle-order batsman added. I Can Play Innovative Shots and Hence Took More Risk, Says Kedar Jadhav.
So, Jadeja has made his point clear that Kohli was handed the responsibility only to prepare him to take charge of the team post-Dhoni's retirement. Jadeja feels now that the World Cup is near, Dhoni should be handed back the responsibility.
Interestingly, Dhoni is often seen taking important calls like opting for DRS and setting the field. The World Cup-winning captain also guides bowlers behind the stumps and keeps suggesting them which line and length to bowl.
Well, it is unlikely that Dhoni will be handed the captaincy once again. However, the former skipper still plays an important role in the team and his presence will definitely boost India as they look to clinch their third World Cup title.