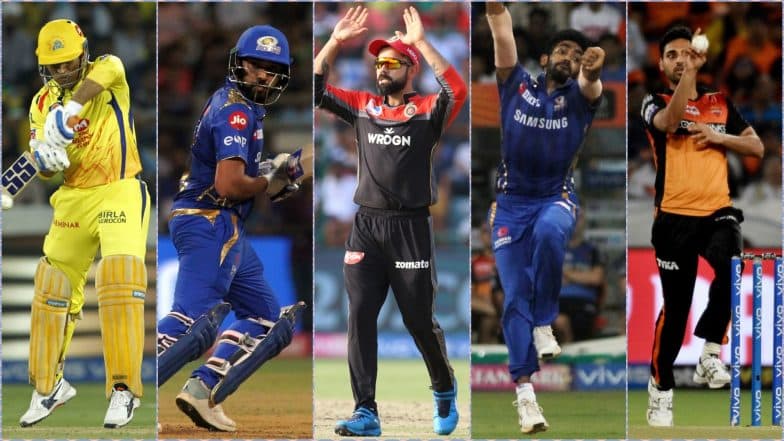 The Indian Premier League (IPL) 2019 is done and over with. Mumbai Indians (MI) led by skipper Rohit Sharma won their record fourth IPL title when they defeated Chennai Super Kings in a nail-biting thriller on May 12. The IPL final was a treat to watch for the fans, given how it went to the last ball to determine the winner of the coveted trophy. With all said and done, it was MI that had the last laugh in the day, winning the IPL title for the fourth time. Mumbai Indians Are IPL 2019 Champions: Highlights From High-Voltage Final As MI Dethrones CSK With Last-Ball Victory.
The IPL is over and all eyes will now turn to upcoming ICC Cricket World Cup, which is scheduled to begin in a couple of weeks' time. A lot was said about the fitness issues, energy levels and injury concerns of the players participating in the mega event beginning soon after.
However, the good news is that no player has been injured, except for a minor injury scare for Kedar Jadhav. With fitness, not an issue going into the World Cup 2019 so far, we at LatestLY bring you facts and figures of the Indian-team (2019 ICC World Cup squad) players, and how their performances were in IPL 12.
1. Rohit Sharma, Mumbai Indians
The MI skipper didn't have a great season; however, he did find his groove in the second half of this season. In 15 matches, Rohit Sharma scored 405 runs at an average of 28.92. Sharma managed to score only two half-centuries in this IPL.
2. Shikhar Dhawan, Delhi Capitals
After a sluggish start to his season, Shikhar Dhawan struck form in the crucial second half of the season. In 16 matches, Dhawan scored 521 runs at an average of 34.73. The flamboyant left-handed batsman ended with 64 fours against his name – the most by any batsman in this IPL.
3. KL Rahul, King XI Punjab
Failing to receive any notable support from other team members, KL Rahul's stupendous form this season, didn't attract much attention. With 593 runs in only 14 matches he played, Rahul emerged as the highest scoring Indian batsman in this IPL. Rahul scored a century and six fifties in his incredible run this season.
4. Virat Kohli, Royal Challengers Bangalore
The RCB skipper had a forgetful first-half season too. However, he did make a comeback or sorts later; perhaps a little too late in the tournament. Virat Kohli scored 464 runs in his 14 games this season. Kohli's sole century was the only highlight in his otherwise dim campaign this IPL.
5. MS Dhoni, Chennai Super Kings
It was MS Dhoni's form that saw CSK making it to the playoffs' this season. He didn't fire much in the crucial playoffs game, and that's what went against the three-time IPL champions. Nonetheless, Dhoni did score an impressive 416 runs in the 12 innings that he batted, at an impeccable average of 83.20. Also, Dhoni affected 16 dismissals (11 catches and 5 stumpings) behind the stumps this IPL.
6. Kedar Jadhav, Chennai Super Kings
Kedar Jadhav had a sorry season in this IPL. In 14 matches that he played Jadhav could only add 162 runs in his tally. Also, Jadhav was ruled out of the remainder of the IPL when he hurt his shoulder while fielding against Kings XI Punjab on May 5.
7. Dinesh Karthik, Kolkata Knight Riders
There was a lot of hue and cry over his selection in India's World Cup squad over Rishabh Pant, and given how his performance was, it will get louder as WC 2019 approaches. The Kolkata Knight Riders (KKR) skipper had a below-par season this IPL. In 14 matches, Karthik could muster up only 253 runs, including two half-centuries.
8. Hardik Pandya, Mumbai Indians
One of the few players this season who notched up their game manifolds, Hardik Pandya enhanced his big-hitting skills this IPL. In 16 matches, he scored 402 runs at a strike rate of 191.42 – only second to KKR's Andre Russell, in which he hit 29 sixes – the third-most by a player this year. He also picked up 14 wickets, delivering at the time when his team needed him the most.
9. Vijay Shankar, Sunrisers Hyderabad
A lot of eyebrows were raised when Vijay Shankar was selected in India's World Cup squad. His performances in the IPL weren't as per the expectations pinned on him either. Nonetheless, Shankar scored 244 runs in 14 matches that he played this season and managed to pick a few wickets.
10. Ravindra Jadeja, Chennai Super Kings
Ravindra Jadeja, too, didn't have much of an impact with his batting this season. However, the left-arm bowler did bowl exemplarily well where he took 15 wickets in his 16 games. His impressive economy rate of only 6.35 helped CSK stem the flow of runs in the middle overs throughout.
11. Kuldeep Yadav, Kolkata Knight Riders
Kuldeep Yadav was in tears after being clobbered by Moeen Ali around the park in their game against Royal Challengers Bangalore (RCB) in this season. One of the two premiere Indian spinners, Kuldeep Yadav would be looking to put the setbacks in this IPL behind and start afresh for the World Cup 2019.
12. Yuzvendra Chahal, Royal Challengers Bangalore
Yuzvendra Chahal, on the other hand, had a stupendous season. Lack of support from the other team members saw him (and his team) failing to qualify for the Playoffs'. In his 14 matches, Chahal picked up 18 wickets at an impressive average of 21.44.
13. Bhuvneshwar Kumar, Sunrisers Hyderabad
The stand-in skipper of the Hyderabad franchise, Bhuvneshwar Kumar would have expected from himself this season. In 15 matches, he could pick only 13 wickets leaking runs at an economy rate of nearly 8 – may be the responsibility of captaincy affected his performance.
14. Mohammed Shami, Kings XI Punjab
Mohammed Shami had an impressive season this year. However, like his teammate KL Rahul, lack of support from other bowlers saw his (and the team's) campaign cut short at the league stage. In 14 matches he played, Shami picked up 19 wickets – often delivering in crunch situations.
15. Jasprit Bumrah, Mumbai Indians
Jasprit Bumrah kept his calm and cools throughout the season and emerged as one of the prime reasons for Mumbai's record 4th IPL title. In 16 matches, Bumrah picked up 19 wickets with an impressive economy rate of 6.63 – the best among top seven wicket-taking bowlers in this IPL.
With all said and done it will be interesting to see how the Indian squad regroups and performs in the ICC World Cup 2019. With only a couple of weeks before 2019, ICC Cricket World Cup begins on May 30, stay tuned to Latestly for all its latest updates.