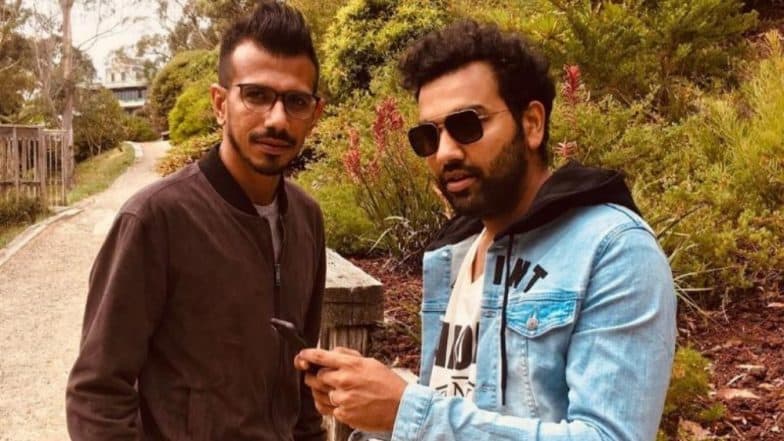 Rohit Sharma and Yuzvendra Chahal have been thick friends and the two never leave a single opportunity to pull each other's leg on social media. The two played together for the same franchisee Mumbai Indians even in the IPL and now are once again together in the Indian team. This time, Rohit Sharma trolled his friend Yuzvendra Chahal on Instagram. So here's what happened. Rohit Sharma Could Overhaul Virat Kohli's This Record During India vs New Zealand T20I Series 2019.
Yuzi put up a picture of himself batting with Kuldeep Yadav with the caption, "Think big, believe big, act big, and the results will be big.." The picture was obviously seen by the Indian captain who had a funny reply to the snap. "How about ironing your uniform." Chahal not only applauded Rohit for trying to troll him but also congratulated him on the effort. "And my big brother trying to troll me hmm nice try bhaiya you improved little bit keep up," Chahal replied.
Here's the snapshot of the banter between the two.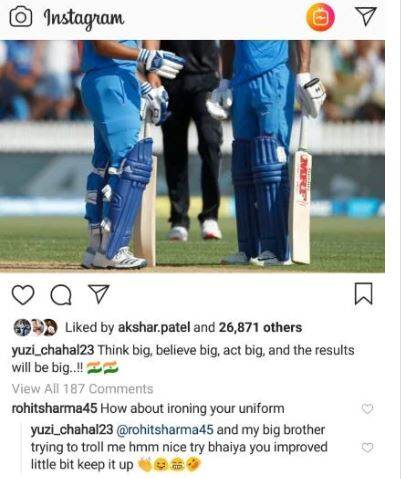 Recently, Rohit Sharma made a debut on Chahal TV where the Indian captain was asked by the leggie if he could be promoted o number three in the upcoming three T20Is. "He [Chahal] was our top scorer in the previous match that we lost. But I want you to be the top scorer in a match which go on to win. I will speak to Ravi Bhai for your promotion to No.3 in the T20s," said Sharma jokingly.