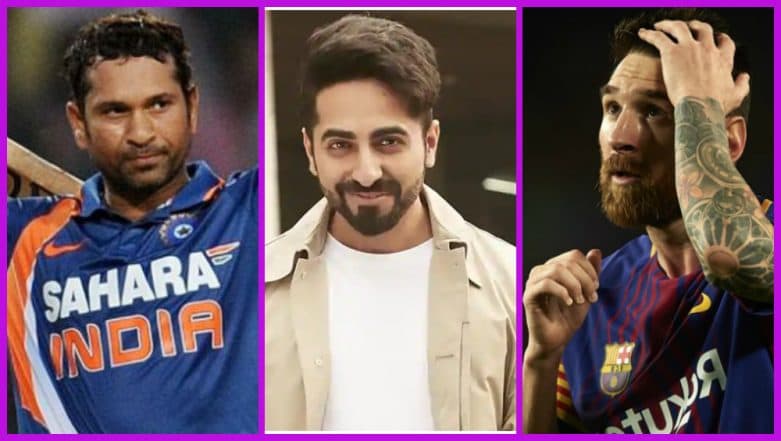 There is no comparison between Sachin Tendulkar and Lionel Messi. Both have earned huge respect in their respective sports throughout their careers. While Tendulkar has resigned from cricket, Messi is still playing. Meanwhile, Bollywood actor-singer Ayushman Khurrana somehow rates Tendulkar above Messi despite there being no comparison between the two. Ayushmann Khurrana and Nushrat Bharucha's 'Dream Girl' Has Locked a Release Date! Read Deets.
A popular Twitter handle by the name of 'God', recently tweeted: "I'm leaving. Messi, take over", after Messi netted a hat-trick against Sevilla for Barcelona. It was Messi's 50th career hat-trick as Sevilla were outplayed 4-2. Messi's effort was applauded by fans and experts and reactions were pouring in on Twitter.
The account 'God', which operates by the Twitter handle @TheTweetofGod has over 5 millions followers. Ayushman quoted a tweet from 'God' and wrote, "Sachin*" indicating that it is Sachin who is the actual 'God of Sports' and not Argentina footballer Messi. Lionel Messi Scores 50th Hat-Trick of His Career, Helps Barcelona Beat Sevilla by 4-2 at La Liga 2018-19.
Here's the Tweet by 'God'
I'm leaving. Messi, take over.

— God (@TheTweetOfGod) February 23, 2019
And here's Ayushman Khurrana's response
Sachin* https://t.co/HdI1RruXm8

— Ayushmann Khurrana (@ayushmannk) February 24, 2019
Tendulkar is the highest run-scorer of all time in international cricket in Tests and One-Day Internationals (ODIs) and has hundred centuries against his name. Meanwhile, Messi's 50th hat-trick was his 32 in Spanish La Liga. His rival Cristiano Ronaldo holds the record for the most number of hat-tricks in the LaLiga, with 34. Meanwhile, it was Messi's third hat-trick this season, while Ronaldo is yet to register one with this season.