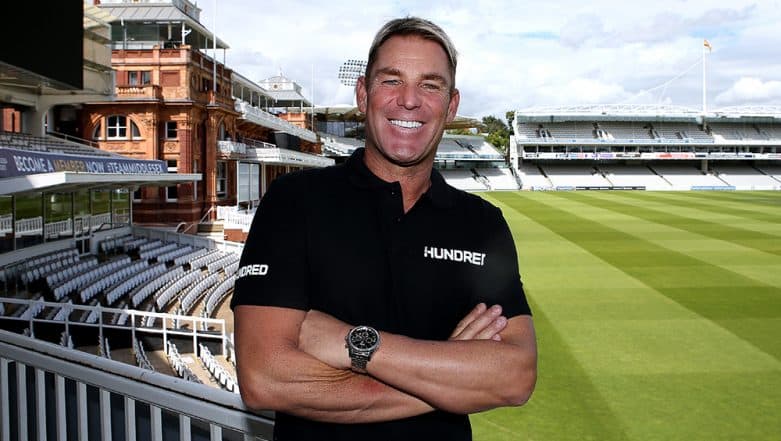 Former Australian cricketer Shane Warne has been named as the coach of a  London based Lord's team for next year's edition of 'The Hundred'. The Hundred is an initiative of England and Wales Cricket Board, under which cricket matches of 100-balls per innings will be played. The inaugural edition of the cricket tournament will be played next year in 2020. The new format will see a change of bowlers after every 10 or 5 balls. Warne will coach the side which will consist of Marylebone Cricket Club (MCC), Middlesex, Essex and Northamptonshire. Shane Warne, Mark Waugh, Aakash Chopra Fuming About the Umpiring Standards During Ashes 2019 Day 1. 
"I love the concept of The Hundred and it has grabbed my attention in the same way the IPL did. We built a team from scratch with a diverse range of players from different backgrounds and ages and I can't wait to build the same mix of players to entertain the fans who come down to Lord's for The Hundred," the Aussie spinner was quoted as saying.
Warne is the third head coach to be named, alongside Andrew McDonald at Birmingham and Simon Katich in Manchester. Another former Australian cricketer Darren Lehman is going to appointed as coach of Leeds based team. Former Australia women's coach Lisa Keightley has been appointed as coach of London-based Lord's women's team.
Warne had been captain-coach of IPL team Rajasthan Royals before, and he led the victory of the franchisee in the first-ever edition of Indian Premier League in 2008. He is one of the legendary spinners to ever play cricket, who took 708 Test wickets. He took a total of 101 wickets in his international career while playing for Australia.