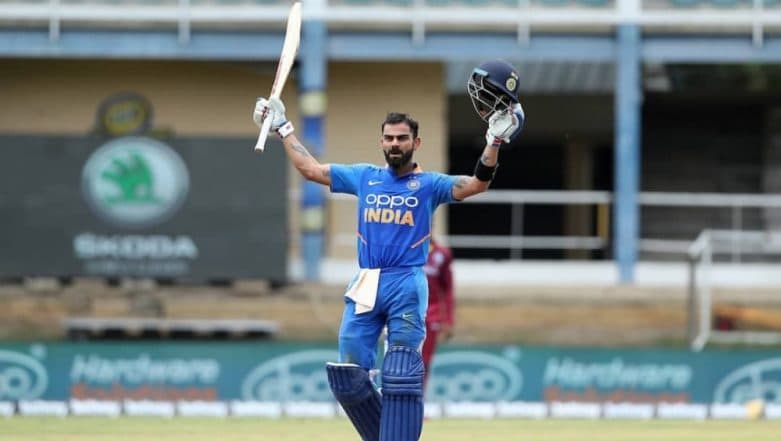 Virat Kohli smashed records en route to his ODI century number 42 during the second ODI game between India and West Indies at the Queen's Park Oval in Port of Spain on Sunday. The Indian skipper, who went without an ODI century in the last 5 months that accounted for 12 games, registered his 42nd ODI century and 67th overall career hundred in IND vs WI ODI game. Social media soon busted open with everyone, including former cricketers, praising the 30-year-old for his impeccable passion for the game and hunger for more. #KingKohli started trending at top of all on Twitter. India vs West Indies Live Cricket Score 2nd ODI 2019 Match.
But it was not just any other normal game for Kohli. The 30-year-old slammed as many as four records, including overtaking Sourav Ganguly and breaking through Javed Miandad's 26-year long-standing record. Kohli started the ODI at Port of Spain just 18 runs shy of beating Miandad and becoming the highest ODI run-scorer against the West Indies. Then while batting at the score of 80, Kohli surpassed Ganguly to become the second-highest run-getter for India in ODI cricket.
Sachin Tendulkar leads the illustrious list with 18426 runs from 463 games, while Kohli is second with 11, 406 runs in just 238 games for India. Ganguly on third took 308 ODI games to score 11221 runs. Kohli is also eighth in the list of all-time highest ODI run-scorer and has the second-highest number of ID centuries after the Master Blaster. With all these records under his belt after another majestic inning, Twitter couldn't help but hail "King Kohli."
The Moment Kohli Hit Century No 42
Only GOAT who attacks even on Eid.

Aggression says it all, I can only imagine if he was a bowler 💯🔥🤘#KingKohli #ViratKohli #INDvsWI @imVkohli @BCCI @ICC #Genius pic.twitter.com/9I0I3DF9pa

— 🅰nkit Raj (@ImAnkitRaj_31) August 11, 2019
ODI Master Class!!
Virat kohli another master class in one day cricket @imVkohli @BCCI .. what a player

— Sourav Ganguly (@SGanguly99) August 11, 2019
Best ODI Batsman
Century kept eluding Kohli in the World Cup....he's got one in the first ODI innings after that. Number 42. There's no dispute about who's the best ODI batsman in the 🌍 #WIvIND

— Aakash Chopra (@cricketaakash) August 11, 2019
In a Different League
Finally the wait is over. If a guy at the age of 30 can have 42 hundreds, he has proved enough that he is in a different league which is as great as #Masterblaster and shouldn't be compared to anyone. #kingKohli #WIvIND.. #KingKohli .@imVkohli .#HailtheKing. pic.twitter.com/Ba2V05SNKC

— Tushar Sudha Pandey (@imvktushar) August 11, 2019
Century in 11 Innings
Finally an ODI 100 - his 42nd - for Virat Kohli after 11 inns.

His last two 100s were back to back, came @ Nagpur & Ranchi agst Aus on 5 & 8 March 2019.

The most inns for him without an ODI century still remains as 17 inns - from 27 Feb to 11 Sep 2011.#IndvWI #IndvsWI#WIvIND

— Mohandas Menon (@mohanstatsman) August 11, 2019
Virat Kohli A Genius
Century for the virat Kohli after 155 days I badly wanted him to score a ton and he does it on a difficult pitch

Century No.42 in ODI'S and went past DADA in runs tally in ODI'S & take bow

👑Kohli u r a genius @imVkohli The GOAT #KingKohli #INDvsWI pic.twitter.com/HbKj0p2xy1

— Tulasi Venkata Swamy (@imTVStirumani) August 11, 2019
Master of Modern ODI Cricket Batting
Virat Kohli has never gone more than five half centuries without converting to a century. He was on the cusp of it today, but No 42 was inevitable. Privelidged to be around to see the master of modern ODI cricket batting. #bestallformatplayer

— ian bishop (@irbishi) August 11, 2019
This Decade No One Else!!
This Decade

Most Runs - 19904

Most 50s - 92

Most 100s - 66

Most 200s - 6

Most 4s - 1976

Most Matches - 370

Highest average - 56.52 pic.twitter.com/0o7QOpkrPa

— Grishma Sharma (@GrishmaSharma23) August 11, 2019
King Kohli For a Reason
#KingKohli for a reason. 42nd ODI ton. Hail @imVkohli 👏👏👏

— Wonder woman (@_guptaneha) August 11, 2019
Baahubali!!
42nd ODI hundred ahh already 💥💥

By end of his career he'll easily achieve 80+ centuries 🔥🔥🔥

If @sachin_rt --> Sholay @imVkohli --> Baahubali 💥🙏#ODINo1batsmen #ViratKohli #KingKohli pic.twitter.com/lbIHBenCps

— Mr 28 (@TheNameIsVinay) August 11, 2019
No. 42
No 42 ✔️ #ViratKohli 🙌🙌🙌

— Deep Dasgupta (@DeepDasgupta7) August 11, 2019
Kohli was eventually dismissed on 120 runs from 125 deliveries by Carlos Brathwaite. Kohli's innings comprised off 14 fours and a six. The Indian skipper was also involved in a 125-run partnership with Shreyas Iyer (71) and they together helped India a post 279/7 on board. Brathwaite was the pick of the bowlers for West Indies with figures of 3/53 in 10 overs.