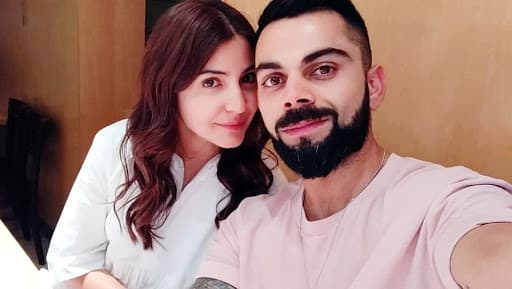 During the upcoming ICC Cricket World Cup 2019, wives and family members of Indian players will be allowed to stay with the cricketers for a 15-day period and that too 21 days after team India's first match. So, as per the new rules, the WAGs of Indian cricketers including skipper Virat Kohli's wife Anushka Sharma won't be able to attend high-profile India vs Pakistan game which is scheduled to take place on June 16 at Old Trafford in Manchester. Indian Cricketer's 'WAGS' or 'Significant Others'.
It is up to the player and family members to decide when they arrive in England for a 15-day period after the first 21 days are over. According to a Times of India report, the BCCI has already approved the new ruling.
"If Kohli's wife Anushka Sharma wants to stay till the last phase of the tournament, she would have to plan it accordingly so that the 15-day window falls into the knockout games," a source was quoted as saying by TOI. Virat Kohli and Anushka Sharma's Chemistry in These TVCs Is A Treat For Virushka Fans (Watch Videos).
India begins their World Cup campaign on June 05 against South Africa and as per the new rules set by the BCCI, the WAGs of cricketers will be able to attend matches only post June 22 clash between Indian and Afghanistan. The WAGs can attend semi-finals and finals in their 15-day period, provided India makes it to the knockout matches. IPL 2019: Anushka Sharma Has Literally Changed My Whole World, Says RCB Captain Virat Kohli; Watch Video.
After the first 21-day period is over, Indian cricket team will play four matches, excluding the semis and final. The Indian team is leaving for England on May 22 and before the tournament will play two warm-up matches.