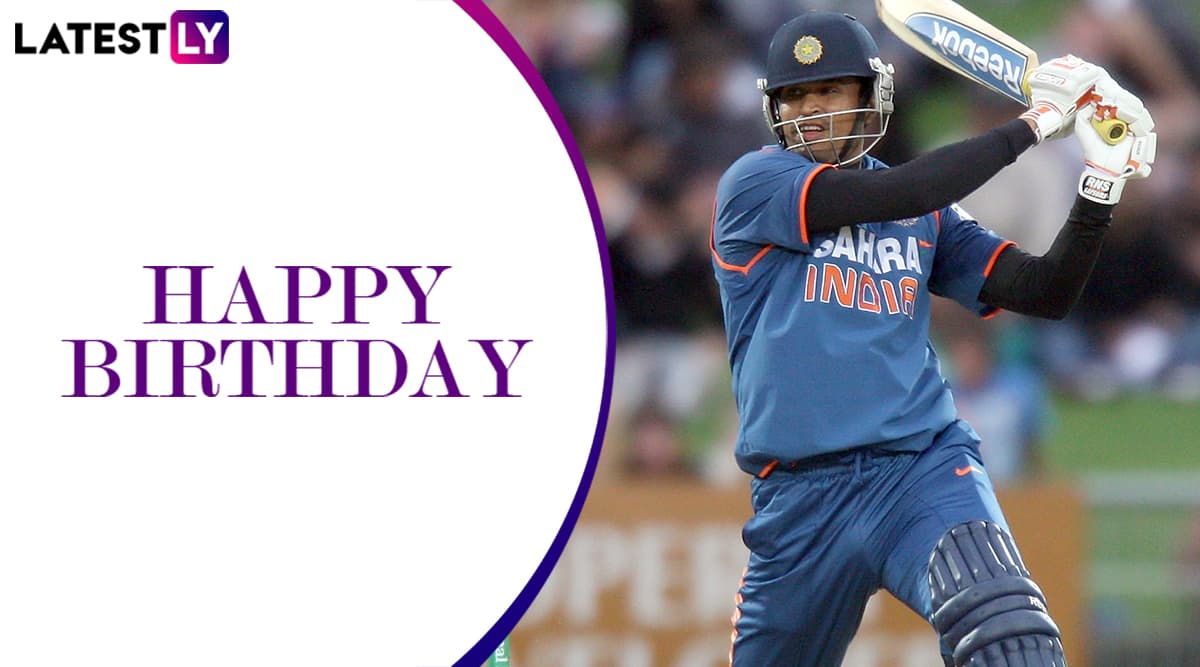 A 'Sehwagesque' six to announce himself to international cricket at the grandest stage of all, Yusuf Pathan celebrates his 37th birthday on November 17, 2019 (Sunday).  One among the few rare players to win both the 50-over and Twenty20 World Cup, Pathan is best known for his power-hitting and ability to launch carnage on the opposition ranks. He was nicknamed 'Blaster' during his time with the Rajasthan Royals. Teammates in the Baroda dressing room call him 'The Beast.' On his day, Pathan can destroy any opposition – ask Mumbai Indians. He made his international debut in the final against Pakistan as India lifted the inaugural T20I World Cup in South Africa, 2007. Pathan was also part of the Indian team that won the 50-over World Cup after a wait of 28 years.
For a player, who began his international career with a towering six over the bowler's head, Pathan was destined for great things in Indian cricket. Pathan, who made his international debut as a replacement for Virender Sehwag in the 2007 T20I World Cup final, started India's innings just like his predecessor would – a straight six on his very second delivery. But inconsistency, added to frequent ins and outs of the national team, meant Pathan played only 57 ODIs and 22 T20Is in five years. Take a look at five of his best performances in international cricket, in most of which he started as a 'blaster' only to turn into a 'beast' and launch a carnage on the opposition attack.
123 off 96 deliveries against New Zealand at Bengaluru, 2010
Two years after making his international debut and failing to score anything substantial other than a half-century, Yusuf Pathan made the world stand for once with a brilliant maiden ODI century against New Zealand to lead India to victory from a precarious situation. Having already clinched the five-match ODI series with three successive victories, India suddenly found themselves trailing at 4/108 while chasing 316 runs for victory in the fourth ODI of New Zealand Tour of India in 2010.
With the series already gone, a struggling New Zealand side smashed 315 runs batting first with James Franklin missing out on a century by just two runs. In reply, Kyle Mills and Nathan McCullum left India reeling at 104 in 20 overs with their top order back in the hut. In came Pathan. The hard-hitting batsman first stitched an 80-run partnership with Rohit Sharma before Sharma was dismissed and Sourabh Tiwary arrived.
What followed was a barrage of boundaries from the blaster, something that Chinnaswamy stadium in Bengaluru will never forget. From being four down for just 108 runs in 19.3 overs, India chased down 316 with seven balls and five wickets in hand. The Pathan-Tiwary duo had shared a 133-run stand of which Sourabh Tiwary scored just 37. Pathan finished with 123 runs from just 96 deliveries that had seven boundaries as many humongous hits to the stands. His maiden century came from 79 deliveries with Pathan getting there through a gigantic six over long-on.
105 Runs Off 70 Deliveries Against South Africa at Centurion, 2011
This was second and last ODI century and although it came at a losing cause, South Africa's victory was never assured as long as Pathan stood in the crease. Pathan endured more failures than success in the national jersey but his rare happy days came at moments the team desperately needed him. At Centurion with the ODI series sweetly poised and India chasing their first-ever ODI series victory in South Africa, Pathan came good - although it wasn't enough.
India has won the second and third ODI, South Africa the first and fourth games with one remaining. But at Centurion, the visitors found themselves at 5/60 in 12 overs, chasing 268. Pathan arrived after India's star-studded top-five had returned. It soon became 6/74 to 7/98 in 19 overs but despite wickets falling once every five overs at the other end, Pathan was unperturbed. Hs smashed 105 runs off 70 deliveries, which comprised of eight fours and as many sixes. His century came from 68 deliveries with Pathan smashing Lonwabo Tsotsobefor 20 overs in one over - two fours and two sixes - to reach the landmark.
Once again the hundred came from a monstrous pulled six. Pathan hit it so hard that the ball for once, it seemed, would touch the sky. He came at 5/60 and by the time he was dismissed in the 36th over, India only needed 48 runs to win. They eventually fell short by 34 runs.
Once a promising batsman and one of India's most brutal hitters of the ball, Pathan now plies his trade in Indian domestic circuit – hopes of another international appearance getting bleaker with time. The international stage od may have seen just a glimpse of his brutality with the willow in hand, but in the Indian Premier League, Pathan still remains a hot purchase. Happy Birthday, Yusuf Pathan.