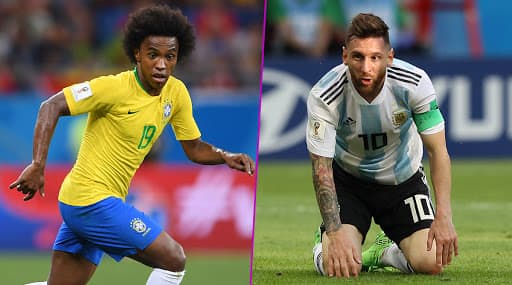 Argentina are set to face Brazil in an International Friendly on November 15, 2019 (Friday). The 111th meeting between the sides will be played on unfamiliar surroundings at King Saud University Stadium in Riyadh. Historically, Brazil have the upper hand in this prestigious clash and this fixture needs no hype, but the return of Leo Messi will add more glamour to this fantastic rivalry. Before this clash, Brazilian winger Willian has downplayed the claims of Leo Messi being the greatest footballer of all-time and has revealed that he believes Ronaldinho was a better player than the Argentine. Willian's contract is set to expire in the summer and the Brazilian has been linked with a move to Barcelona which will see him link-up with Argentine Leo Messi. Lionel Messi Set To Return For Brazil vs Argentina Friendly After 3-Month Ban, Star Forward Posts Pictures From Training Session.
Before the South American rivals face each other, Willian spoke with Goal and revealed the player who he thinks is the greatest player of all time. 'Ronaldinho was the best of them all,' Willian said when asked about his thoughts on the greatest player of all-time debate. 'Better than Messi and Cristiano. They score goals but what Ronnie did was incredible. He was incredible on the field and he also scored. Although I am a fan of his, he left too soon.' He added. Willian also said that if Ronaldinho continued playing for a couple more years he would have won more Balon d'Or's. 'He was twice, and then I don't know what happened. He was my biggest idol in football.' The Brazilian added. Smriti Mandhana Picks Cristiano Ronaldo Over Lionel Messi as Her Favourite Footballer, See Her Instagram Story.
Argentina are boosted by the return of their record goalscorer Leo Messi and head into this match on a five-match unbeaten streak. Manager Scaloni will be eager to get a win against their arch-rivals and make a statement of intent. Brazil, on the other hand, will be without Neymar and are winless since their Copa America final win earlier this year.