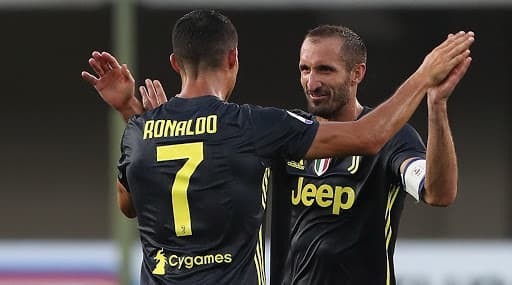 Italian defender and Cristiano Ronaldo's Juventus team-mate Giorgio Chiellini has slammed Real Madrid by claiming that they robbed the Portuguese superstar from winning the Ballon d'Or last season. The Juve forward finished third in this years ranking behind Liverpool's Virgil van Dijk and long-time rival Lionel Messi. This Golden Ball win makes Leo Messi the most decorated individual in the footballing world as he went past Cristiano Ronaldo's tally of five Ballon d'Or. Luka Modric won the award last season but Juventus defender Chiellini believes that the award belonged to Ronaldo and Real Madrid stopped the Portuguese from being crowned as the best player in 2018. Cristiano Ronaldo Delayed Serie A Bash by Staying in His Car Until he Was Announced the Winner.
While speaking with Sky Italia Chiellini, blamed Ream Madrid for Ronaldo's Ballon d'Or snub in 2018. 'Ronaldo was really robbed of the Ballon d'Or last season when Real Madrid decided to make sure he couldn't win it and that was really weird' the Italian said. 'This season, it was more balanced. With all due respect, Modric even in his best season of his career didn't deserve it. That was a signal from Real Madrid, as they wanted to stop Ronaldo winning it,' the defender continued while slamming the Spanish Giants. The Juventus center-back also gave his views on this year's Golden Ball results and said Virgil van Dijk winning it made more sense. 'Modric won the Champions League, but by that logic, Van Dijk should've won it this year, or last year Griezmann, Pogba or Mbappe for doing extraordinary things at the World Cup. Modric made no sense' added the Juventus defender. Cristiano Ronaldo Crowned With Serie A Player of the Year Award (View Pic).
Cristiano Ronaldo was not present during the years Ballon d'Or Gala at the Theatre du Chatelet in Paris as the Portuguese attended the Serie A year-end awards. The Juventus forward was named as the best player and best forward in the Italian domestic league last season during the award ceremony.