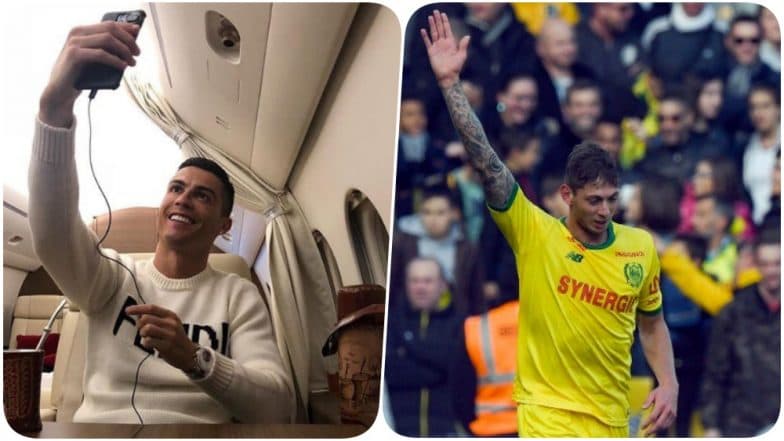 After paying a hefty fine and accepting a tax fraud, Cristiano Ronaldo is in the news again. Earlier today the Juventus forward shared an in-flight selfie on social media accounts. Little did he know that his picture would invite severe backlash from the netizens as the post coincided with the tragic news of Emiliano Sala's aircraft goes missing and is believed to have died in a plane crash after a light aircraft disappeared en route to the Welsh capital over Channel Island. Emiliano Sala, Cardiff City Footballer, on Board Missing Flight, Feared Dead.
Ronaldo clicked a selfie in a private jet and got slammed as the netizens believed that it was insensitive of CR7 to ignore the news of the plane crash.  Cardiff had signed the Sala for the fee of 15 million GBP. While the investigations are on, the netizens responded to CR7's picture by trolling it brutally. Check out CR7's post below.
😀🛫👍 pic.twitter.com/zC80kfMES8

— Cristiano Ronaldo (@Cristiano) January 22, 2019
This netizen thought that CR7 is being selfish.
Incredible levels of insensitivity and selfishness here.

— Ben Spicer (@spicer81) January 22, 2019
This fan slammed the bad timing of the snap.
timing

— 🤨🧐 R.J J⭕EL POSTBADIVOIRIEN | Bmsuppz.com 🐊 (@iampostbad) January 22, 2019
This Internet user also said that it's a bad time of the snap.
J'pense pas que ça soit le bon moment

— Toto Jr. (@Toooto_13) January 22, 2019
Here's another post.
Where is his team to tell him today is t the right day to post this at all? :( so sad

— Layla Anna-Lee (@Laylaloves) January 22, 2019
The search operation of Sala will continue as he reportedly sent a few audio recording to his friend. "I'm on a plane that looks like it's going to fall apart, and I'm leaving for Cardiff," Sala said in a WhatsApp audio message carried by Argentine media. "If in an hour and a half you have no news from me, I don't know if they will send people to look for me, because they will not find me, you know. Dad, I'm so scared," he added.