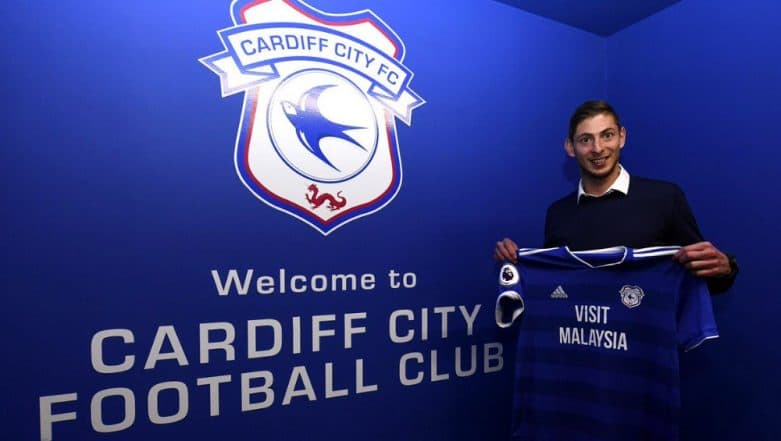 A light aircraft travelling from Nantes in France to Cardiff has reportedly gone missing after contact with it on radar was lost. The aircraft disappeared from radar near the Casquets lighthouse on Alderney in the Channel Islands, reports Metro.co.uk. The plane is believed to be carrying Cardiff City Football Club's new £15million signing Emiliano Sala and is missing since 8.30pm on Monday, January 21.
A land and sea search operation was launched to find the whereabouts of the missing plane. It is believed that the plane was carrying two people. Meanwhile, in a statement, Guernsey Police said that two helicopters apart from lifeboats were looking out for the plane. English Premier League 2019: Manchester City Thrashes Huddersfield 3–0, Trails Table Topper Liverpool by 4 Points
A search and rescue operation is currently underway off the north of Alderney after a light aircraft disappeared from radar several hours ago. Two helicopters alongside the Guernsey and Alderney lifeboats are searching for it," Guernsey Police was quoted as saying by Express.co.uk.
As per the Met Office meteorologist Mark Wilson the time the aircraft went missing 'there were some showers around, but nothing too intense'. "At that time there were some showers around, but nothing too intense. Wind speeds were not too bad - average speeds were around 15 to 20mph. But it has got pretty wet, we've seen a band of rain push down from the northwest. That rain set in around 11.30pm to midnight and it's still raining now. It's also a bit windier, with gusts around 35mph," Wilson said. Cristiano Ronaldo Faces Multi-Million Tax Fraud Fine in Madrid Court
The 28-year-old was signed by Cardiff City a couple of days ago from Nantes for a club record fee. The club had confirmed the deal on their official website after their 0-3 defeat against Newcastle. Sala has signed a three-and-a-half year deal. The Argentine striker has scored 13 goals in 21 matches this season. Cardiff City FC are currently placed 18th on the EPL 2018-19 points table with five wins from 23 matches.