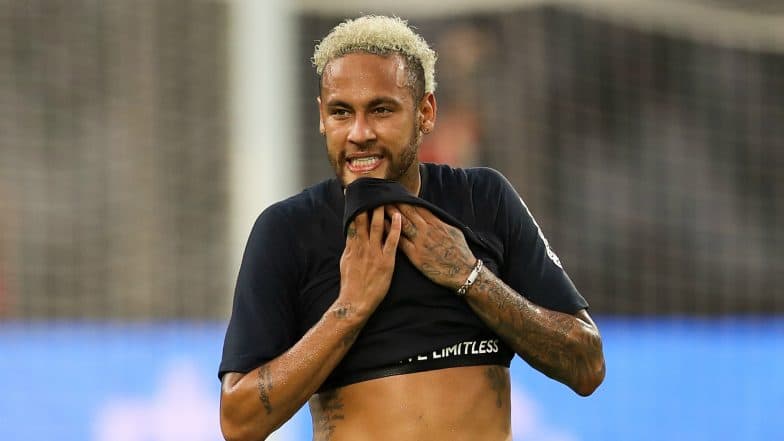 Neymar Latest Transfer News Update: PSG forward Neymar was involved in a month-long transfer saga where he was subjected to multiple bids by Barcelona. It ultimately ended in a sour note for both the Brazilian striker as well as the Spanish champion with the deal falling through. Now reports coming in from Paris states that the news was too much for Neymar to digest. He reportedly broke down once Barcelona informed him that despite multiple attempts, PSG have not agreed for the sale. It also leaves the player stuck with a club where fans clearly hate him, and his bond with the players too has taken a beating. Neymar Transfer News: PSG, Brazilian Star Aim to Rebuild Strained Relationship as Summer Window Shuts.
As soon as the news of Neymar staying with PSG reached the dressing room, the players teased him with infamous 'se queda' reference. For those who have forgotten, Gerard Pique had posted a picture of Neymar with the caption 'se queda' which translated to he stays back with Barcelona in 2017. Just days after the Instagram post, Neymar left La Liga side for PSG. Post the international break when the French league resumes, we may see Neymar getting back on the pitch. Thomas Tuchel had left the Brazilian out of the squad up until now asking him to sort out his future.
The alleged reason behind Neymar's failure to join Barcelona is the refusal of Ousmane Dembele to join PSG. The winger, one of the players involved in the cash plus player deal, quoted a higher fees which the Parisians were not willing to pay. These news reports have left a sour taste in the Barcelona dressing room as well with a few players livid with Lionel Messi – the man behind the pursuit of Neymar. It will be in the best interest of both the clubs now to forget about this deal and focus on their immediate future with Champions League games coming up.