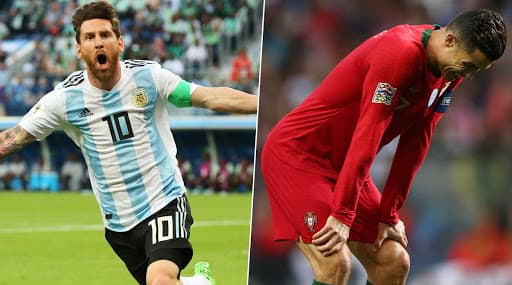 After Lionel Messi's masterclass against Uruguay, his fans brutally trolled Cristiano Ronaldo for stat padding against the so-called smaller teams at the international level. Both the players were in action during the last International break of the calendar year. The Argentine played in friendly matches against South American rivals Brazil and Uruguay. Meanwhile, Cristiano played against Lithuania and Luxembourg during Portugal's Euro 2020 qualifying campaign as they cemented their place in next year's competition. The Portuguese scored a hat-trick against Lithuania and then managed a late goal against Luxembourg to take his tally of international goals to 99, just 10 goals behind Iranian Ali Deai. As soon as Leo Messi scored in injury time against Uruguay to earn his side a late draw, his fans took to Twitter to troll the Juventus striker. Lionel Messi Dribbles Past Six Uruguay Players During ARG vs URU International Friendly 2019, Netizens Left in Awe of Argentina Footballer's Mad Skills (Watch Video).
Lionel Messi made his return to the International stage against Brazil after serving a three-month ban. The Barcelona captain scored the only goal in the match against Selecao and took his team to victory. In the match against Uruguay, Messi assisted Aguero's goal before scoring himself in extra time to earn his side a crucial draw. This result takes Argentina's unbeaten run to seven games. With Leo Messi hitting fine form in an Argentina shirt, his fans don't want to miss out on a chance to troll the 32-year-old's arch-rival Cristiano Ronaldo as many fans compared their international record and called Messi the better player despite the Portuguese having more goals on the International stage. Israel Sees Lionel Messi Visit as Victory, Even as Argentina and Uruguay Draw In International Friendly 2019.
Here's How Fans Trolled Ronaldo
Messi scored against Almighty Brazil 🇧🇷,

Messi scored and assisted against in form Uruguay 🇺🇾,

But one player only scores against Malta, Solomon Island, Luxembourg, Macedonia.

Levels.

😂 😂 😁 😁 😁

— Barca Principal (@TheGeniusJaj) November 18, 2019
International Goals
📊 — International goals:

🇵🇹 Cristiano Ronaldo - 99

🇦🇷 Lionel Messi - 69

% of goals scored against nations currently inside the top 10 FIFA's World rankings:

🇵🇹 Cristiano Ronaldo - 8.08%

🇦🇷 Lionel Messi - 26.09%

[@Coral] pic.twitter.com/e358PkC9qZ

— Barca Universal (@BarcaUniversal) November 18, 2019
The GOAT!
Ronaldo scores against teams like Luxembourg and Lithuania..

Teams dat pple dont even know dey have a starting XI..

The GOAT messi delivers against Uruguay and Brasil yet Ronaldo fane still have something to say.. pic.twitter.com/mTSgM4ECof

— I_am_royal_tea (@Iamroyaltea1) November 19, 2019
Messi Is the Boss
Messi is actually doing what bosses do.

Whipping the big guys Brazil and Uruguay, unlike chairman who only scores against Lithuania, Estonia, Albania, Pneumonia, Eugenia, 3ny3 mania etc 😂😂💔

Messi 🐐

— Kelewele Joint 😋 (@Ankamagyimi) November 18, 2019
Goals Against Farmers!
Goals vs top 5 ranked nations:

🇦🇷 Messi: 11 ✅

🇵🇹 Ronaldo: 7 ❌

vs top 20:

🇦🇷 Messi: 24 ✅

🇵🇹 Ronaldo: 19 ❌

vs top 50:

🇦🇷 Messi: 47 ✅

🇵🇹 Ronaldo: 46 ❌

vs top 75:

🇦🇷 Messi: 58 ✅

🇵🇹 Ronaldo: 54 ❌

-

vs farmers (out top 75)

🇦🇷 Messi: 12 ❌

🇵🇹 Ronaldo: 45 ✅

Say no more. pic.twitter.com/ySrkPUI5gg

— Dominic (@MessiClass10i) November 18, 2019
Scoring Against the Best
Messi scoring against top 10 while one Madeira clown is scoring against teams still ruled by Herod 🤡 #Messi

— BabyDaddy (@Dan_the_Bank) November 18, 2019
Both players will be returning to their respective clubs later in the week. Cristiano Ronaldo will be a doubt for Juventus's match against Atalanta as the forward is struggling from an injury and is more likely to be on the bench. Meanwhile, Leo Messi could also be rested from Barcelona's weekend clash against Leganes as the Catalan side have an important match, the following week in the Champions League against Dortmund with a round of 16 qualification place on the line.