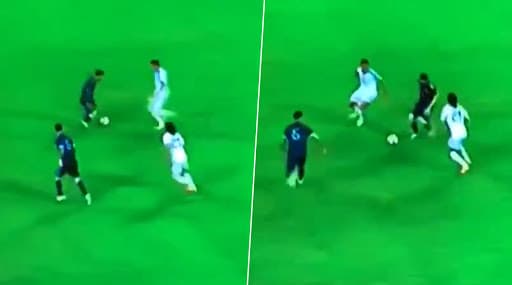 Lionel Messi has a habit of producing magical moments in football matches and the game against Uruguay was no exception as the Argentine dribbled past almost the entire opposition defence. Since his return to the Argentina squad, the Barcelona captain has been in terrific form. Leo Messi marked his comeback against Brazil with the winning goal, but against Uruguay, he elevated his performance to the next level. The Argentine scored in injury time to make sure that the match ended 2-2 after Luis Suarez and Edinson Cavani's goal either side of Aguero's equaliser had seen Oscar Tabarez's side take the lead. Israel Sees Lionel Messi Visit as Victory, Even as Argentina and Uruguay Draw In International Friendly 2019.
This draw takes the Albiceleste's unbeaten run to seven games since their Copa America semifinals loss to eventual champions Brazil. During the first half of the match, Leo Messi went on another one of his trademark runs and took on almost the entire opposition defence. The Argentine went past as many as six players from Uruguay and left fans in the awe of his genius. Many fans called out Thiago Silva for his comments on Messi about how the forward look for cheap fouls, as during this run, it can be seen that Messi was brought down almost twice but refused to stay on the floor and insisted on continuing the run. After this fantastic skill, many fans praised Messi and said that he is from another planet. Lionel Messi Asks Brazil Coach Tite To Shut Up During Argentina's Friendly Tie (Watch Video).
Watch His Insane Skill
Simplemente Messi. #ARGvsURU pic.twitter.com/Z68dZBuOm7

— A. Gabilondo (@AS_AGabilondo) November 18, 2019
Not Human!
Leo Messi is not human. https://t.co/aN0gr7H307

— Jahir Martinez (@jmart1018) November 19, 2019
In His Prime
Leo messi in his absolute prime https://t.co/JOg0Fomgzy

— Indian Guy Talks Football (@varmaamay8) November 19, 2019
Witchcraft!
I can't even comprehend this witchcraft of Leo Messi https://t.co/BNR3Flgvn3

— Eric O (@Oziel91) November 19, 2019
Greatest Of All Time
Its like, as much as #Messi loves the ball, the ball loves him even more ⚽️❤️ In this or any other world, Leo Messi is the Greatest Of All Time 🐐👑 https://t.co/k4IFkR4ZhD

— tanishq (@TBhatter) November 19, 2019
Late in the second half, Messi was involved in a verbal rift with PSG striker Edinson Cavani but the feud did not escalate as Luis Suarez calmed both the players down  Leo Messi is set to return to Barcelona later this week and will be in action against Leganes on Saturday as the Catalan side look to cement their position at the top of La Liga.