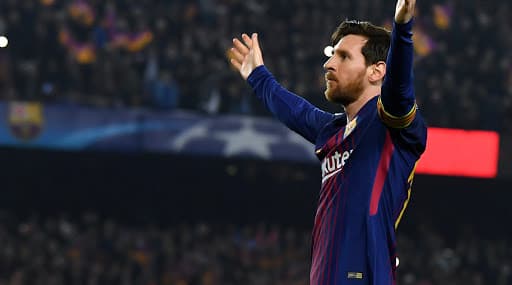 Lionel Messi is considered by many to be the greatest player to ever play this beautiful game and the little genius shows that every time he steps on a football field. The Argentine forward reached a landmark of 700 appearances for FC Barcelona in a Champions League clash against Borussia Dortmund on November 28, 2019. Only Xavi Hernandez has more appearances for the Catalan Club than Leo Messi. In this match, the Argentine became the first player to score against 34 different clubs in Champions League history. Messi has created and also broken a lot of records in his illustrious career, so we take a look at the records created by him that are impossible to break. UEFA Champions League 2019-20: Lionel Messi Toasts 700 Games With a Goal as Barcelona Make Last 16.
The Barcelona captain produced a masterclass on his milestone night as the forward scored one and assisted Luis Suarez and Antoine Griezmann for their goals in a 3-1 Barcelona win. The little magician has been 'The Guy' in Barcelona camp for about 15 years since his debut in 2004 against cross-town rivals Espanyol. The bond between Leo Messi and FC Barcelona is an unbreakable one as the forward has expressed his desire to retire at the Catalan club and has also rejected various offers from a young age to play at different clubs. Leo Messi will continue to break and make records, so we look at five records by him that cannot be broken. Lionel Messi Becomes First Player to Score Against 34 Different Team in UCL.
Records Held By Lionel Messi
Most Goals in a Calendar Year
Leo Messi broke Gerd Muller's record of 85 goals in a calendar year, which was set in 1972 when the Argentine netted a hat-trick against Betis in 2012. The forward finished the year with 91 goals in 69 official matches.
Most Goals in La Liga
Leo Messi broke Telmo Zarra's tally of 252 goals in La Liga when he scored a hat-trick against Sevilla in 2014. This made Leo Messi the highest goal-scorer in La Liga history. The forward now has 427 La Liga goals and is sure to add some more before he retires.
Scored in Most Consecutive League Matches
In the 2012-13 season, Lionel Messi scored 33 goals in 21 consecutive La Liga matches. This run started in November 2012 and ended on the final matchday of the season as he failed to score against Atletico Madrid
Most Assists in La Liga
Leo Messi might be the most prolific goal-scorer but the Argentine is also a terrific provider of goals for his teammates. He is the highest assist provider in La Liga with 173 assists.
Most Goals for One Club in Top 5 European Leagues
Yet another Gerd Muller record that was broken by Lionel Messi. The Argentine broke Muller's record of 525 goals for Bayern against Real Madrid in December 2017. Messi has scored 613 goals for Barcelona in his career and will surely extend it even further in the coming years.
Long after Messi has retired, his name will be chanted as the individual who elevated the beautiful game into art. A man who redefined 'Football' and the way we see it. A man who bewitched audiences with his immaculate talent, balance, dribbling, composure, passing intellect and whatnot. The little boy from Rosario has surely etched his name in footballing history as one of the greatest, if not the greatest player to ever play this game.