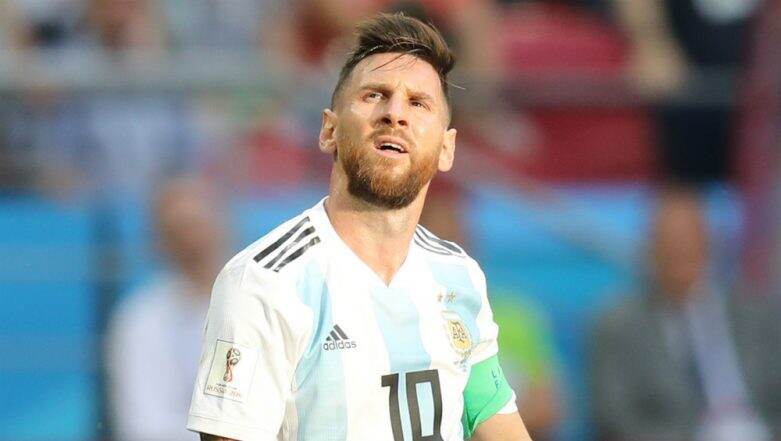 Madrid [Spain], October 1: Argentinean football legend Diego Maradona has suggested star striker Lionel Messi to no longer play for the national side.
Reflecting on the reason behind the same, Maradona stated that the team always put the onus of failure on Messi which is "crazy", Marca.com reported.
"Yes, because if the U15 team loses, it's Messi's fault, an Argentina fixture messes up the domestic calendar for Racing against Boca and Messi is to blame. I'd say-Don't play anymore, it's crazy, but let's see if they're (AFA) brave," Clarin quoted Maradona, as saying. Expressing his views on Messi's silence after being eliminated from the 2018 FIFA World Cup, the retired footballer said that the striker should have spoken about the same. Lionel Messi Misses Penalty Kick at World Cup 2018; Twitterati Trolls The Argentina Captain With Funny Jokes & Memes, #MissPenalty Trends on Social Media!
"Yes, I wish he had sent us all to shit because he's not to blame for not being world champion. Okay, we had all the hopes in him, but when you go to the racecourse you have the hope that your horse will win and it finishes eighth," he said.
"In Formula 1, Vettel has a great engine but Hamilton always wins. He is not to blame for absolutely anything, it's not his fault if other people have lost their passion," he added. Maradona has recently been appointed as the coach of the Mexican professional football club, Dorados de Sinaloa. Diego Maradona Steals Thunder from Lionel Messi at Argentina vs Nigeria 2018 FIFA World Cup Clash, Check Funny Jokes & Memes.
Regarded as one of the football legends, he has scored a total of 34 goals in his 91 appearances. Apart from taking the Argentinean side to World Cup glory in 1986, he mentored the side in the 2010 edition of the prestigious tournament, where the squad went down 0-4 against Germany in the quarterfinals. (ANI)
(This is an unedited and auto-generated story from Syndicated Newsfeed, LatestLY Staff may not have modified or edited the content body)