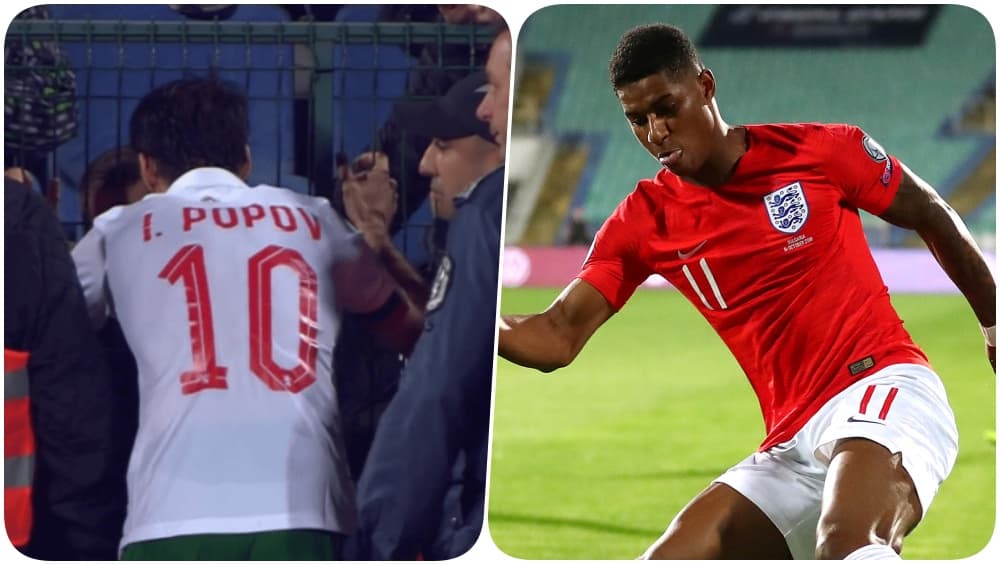 The match between England and Bulgaria at the Stadion Vasil Levski was stopped on a couple of occasions due to racist chants being hurled by the fans of the home team. England was excited with 4-0 lead in the game but their happiness was short-lived as the fans hurled racist chants, Nazi salutes and monkey hoots at Tyrone Mings, who was the first one to report about the same. Even Harry Kane reported the incident and the game was halted at the risk of being abandoned. Amidst the chaos, Bulgarian captain Ivelin Popov went to the crowd and asked them to behave. The act was praised by Marcus Rashford. England Football Team Plan to Tackle Racism Ahead of Bulgaria Clash in UEFA Euro 2020 Qualifier. 
Popov during the interval walked up the crowd and was seen speaking in length to the fans. As per BCC, the Bulgarian captain was seen having a heated debate with the fans as a maximum number of guilty heads left the game before the second half. The chants were comparatively lesser during the second half as England won the game by 6-0. Check out the video of the game being halted.
There is a break in play as the referee has been notified of alleged racist abuse. A stadium announcement has been made asking the abuse to stop#BULENG #ThreeLions #ITVFootball #EURO2020 pic.twitter.com/PWpjHmiTBj

— ITV Football (@itvfootball) October 14, 2019
Here's Popov speaking to the supporters
Marcus Rashford praises Bulgaria captain Ivelin Popov over his 'courageous' act at half-time https://t.co/1tzrp6zakv pic.twitter.com/GAfpBnc7Fw

— Daniel Santano (@daniel_santano) October 15, 2019
It was Ivelin Popov who won hearts and Marcus Rashford praised him on social media for the act. Check out his tweets below:
Thankful to the brilliant England support. You got behind us in the most meaningful way possible tonight and we are all very grateful. Have a safe journey home and take care.

— Marcus Rashford (@MarcusRashford) October 14, 2019
Praises for Popov
Also been told what the Bulgaria captain did at half-time. To stand alone and do the right thing takes courage and acts like that shouldn't go unnoticed. #NoToRacism

— Marcus Rashford (@MarcusRashford) October 14, 2019
"We know that it's an unacceptable situation and I think we've managed to make two statements, really. By winning the game but also we have raised awareness to everybody of the situation. The game was stopped twice and I know for some people that won't be enough but as a group we're on board with that process," said England manager Gareth Southgate after a win against Bulgaria.