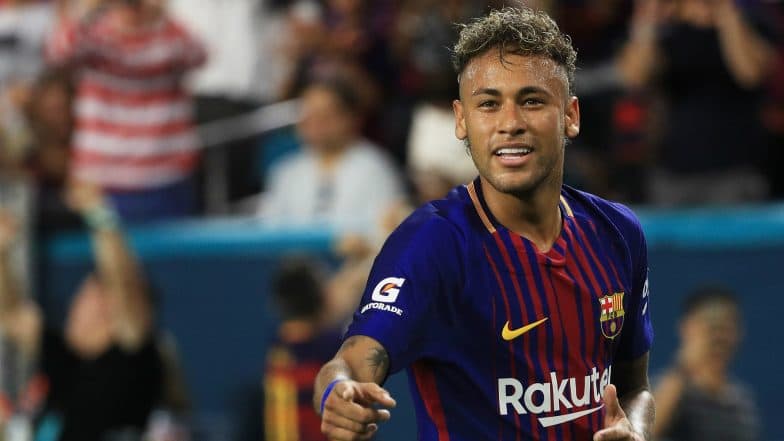 Neymar Transfer to Barcelona Latest News Update: Brazil striker Neymar looks set to be on his way back to Barcelona after PSG, and the Spanish champions stuck a massive player plus cash deal for the forward. In a month-long saga that looked like hitting the dead end, the Parisians agreed on letting go of their megastar who they had acquired in a massive 222 million euros deal back in 2017. While nothing official has been put on record by both clubs, sources in both France and Spain claim the deal is as good as done. The only thing that might be pending is the players who will move to PSG agreeing to personal terms with the French outfit. Neymar in Barcelona Kit Pics and GIFs Flood Twitter Amid Reports of His Transfer to Camp Nou From PSG 'Gets Closer'.
The proposed comeback of Neymar makes Barcelona one of the most feared lineups in European football. The Brazilian forward has always been considered as one the heir apparent to Cristiano Ronaldo and Lionel Messi to the best player in the world. So having the two of the top three players in the game in one team does have its own advantage. Many a time the opposition loses the game well before they even take the field. This, in addition, the French world cup winner Antoine Griezmann in the attacking set-up makes up for a star-studded affair. The trio could wreak havoc on opposition's defences with their goal-scoring ability. Neymar Transfer Latest News Update: Barcelona, PSG 'Agree' to Sensational Deal for Brazilian Star's Return to Camp Nou.
Neymar will almost certainly start wide where he looks to cut in and join the forward line in every opportunity possible. With him on the left-wing and Lionel Messi occupying the right and Luis Suarez or Antoine Griezmann running down the middle, there could be plenty of chances created by the Catalonians. The former Barcelona man is also a dead ball specialist, and in his previous spell at Barcelona, we saw him score plenty of free-kicks. He also has the ability to drop deep in midfield when things are not going well to orchestrate play, which makes him a pleasure to watch.
Barcelona coach Ernesto Valverde now has to make sure he finds the right balance in the team when Neymar arrives. The team should not be loaded with attackers and likely 4-3-3 formation suites the champions with Frenkie De Jong pulling the strings in midfield. On paper, they have the best squad in Europe, and it is now up to the players to deliver.