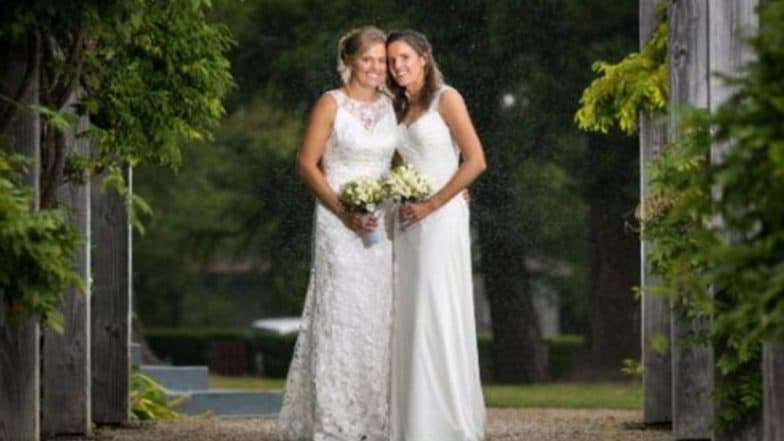 Amy Satterthwaite, New Zealand women's cricket team captain, has announced her pregnancy with teammate Lea Tahuhu. The 32-year-old, who married partner Tahuhu in 2017, will take an indefinite break from cricket as she prepares to welcome the couple's first child. "We can't wait for this new chapter," Satterthwaite was quoted as saying by a statement from New Zealand cricket, which also added that the all-rounder will return to the White Ferns "when the time is right." She will, however, still be contracted under the newly introduced Women's Master Agreement.
"She will be the first player to benefit from the new pregnancy leave provisions included in the new agreement," NZC Chief Executive David White said in the statement. The new agreement allows Satterthwaite to be a centrally contracted player even while on maternity leave. She will, therefore, be entitled to receive her core salary as per the annual contract.
Amy Satterthwaite & Lea Tahuhu are Expecting Their First Child
The baby is due on January 2020 which means that Satterthwaite will miss next year's Women's T20 World Cup in Australia. She plans to make a return for the 2021 Women's World Cup on home soil. "I am very lucky to have great support from NZC with regard to taking a break from the game to have a family.
Wife Lea Tahuhu Reacts
And then there were 3 ❤️❤️❤️ https://t.co/zGl4OADk7T

— Lea Tahuhu (@LTahuhu) August 20, 2019
"I feel I still have a lot to give to the game and look forward to working my way back with an eye on the 2021 ICC Women's World Cup held in New Zealand," she said. Satterthwaite plans to take up the role of a mentor during her pregnancy leave.