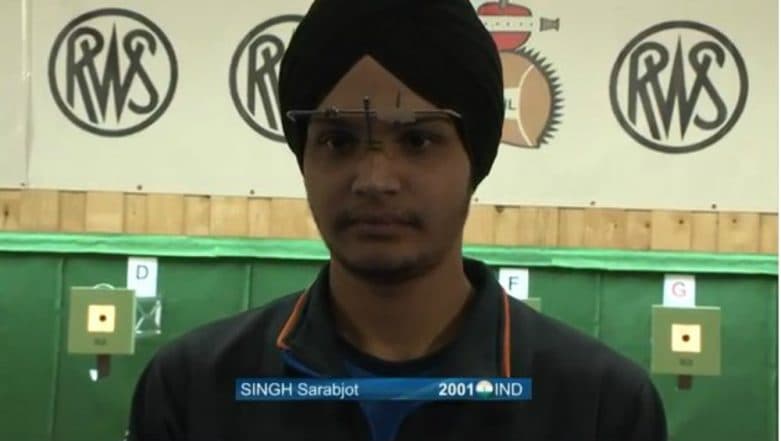 India accounted for one more triumph in the going ISSF (International Shooting Sport Federation) Junior World Cup 2019 after Indian shooter Sarabjot Singh won a gold medal in 10m Air Pistol Event. With this achievement, India's total medal tally at ISSF Junior World Cup 2019 now stands at 22 medals with 9 Gold, 9 Silver and 4 Bronze. India is currently on top of the medal table ahead of China (19) and Russia (6). Sarabjot Singh got better of Chinese shooters Zhehao Wang of China and Shichang Lu with a total score of 239.6. Wang and Lu hit a total of 237.7 and 217.0 respectively. Anish Bhanwala Wins Gold Medal in 25m Rapid Fire Pistol Event at ISSF Junior World Cup 2019. 
Earlier this year in March, Sarabjot Singh had won a gold medal in the 10m Air Pistol event at the 12th Asian Airgun Championships in Taoyuan, Taipei. Sarabjot had topped the qualifier with a score of 579 and then shot 237.8 in the final to beat Kim Woojong, who had shot 236.6. ISSF Junior Shooting World Cup 2019: Vijayveer Sidhu Wins 3rd Gold in Germany. 
Earlier, India's Elavenil Valarivan won a gold medal in women's air rifle event. Elavenil shot 251.6 in the final to beat another Indian shooter Mehuli Ghosh (630.4) by 1.4 points. Other gold medallists for India in the ongoing ISSF Junior World Cup are Vijayveer Sidhu, Rajkanwar Singh Sandhu, Adarsh Singh, Anish Bhanwala, Hriday Hazarika, Yash Vardhan and Paarth Makhija.