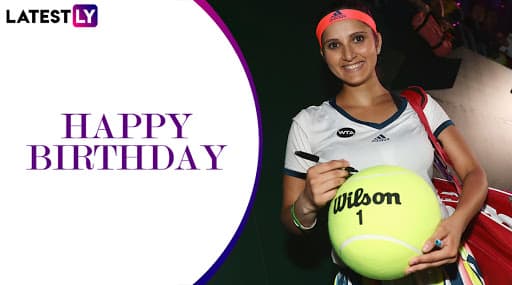 Sania Mirza is a ground-breaking athlete who single-handedly put the Indian Women's tennis on the map. She will celebrate her 33rd birthday on Friday (November 15, 2019). Sania is the first and the only Indian female player to win a grand slam title in any format and also the only player to break into the top 30 of WTA singles ranking. Throughout her career, Mirza has established herself as by far the most successful tennis player from India and also one of the highest-paid and highest-profile athletes in the country. On the occasion of the Indian ace's 33rd birthday, we take a look at some of her top performances. Sania Mirza Shares Cute Photo With Son Izhaan Mirza Malik, Says 'Her Baby Always Spots the Camera' (See Instagram Post)
Sania Mirza's trophy cabinets include the Padma Shri, Arjuna Award and Rajiv Gandhi Khel Ratna Award (2015) which shows how much the nation appreciates her. Sania has won an astonishing six grand slam titles in her esteemed career which includes three wins in mixed doubles and three in women's doubles. In her singles career, Sania had some notable wins against Svetlana Kuznetsova, Vera Zvonareva as well as former world number 1s Martina Higgins, Dinara Safina and Victoria Azarenka. She also has won a total of 14 medals (including six gold) at three major multi-sports events, namely the Asian Games, the Commonwealth Games, and the Afro-Asian Games.
Sania Mirza vs Alona Bondarenko, Hyderabad Open 2005
After winning six ITF singles titles, her biggest win came in 2005. Sania defeated Ukraine's Alona Bondarenko 6-4, 5-7, 6-3 in finals to win her first WTA title. This win was even more special for her as it came in her hometown of Hyderabad. With this victory, Sania became the first-ever Indian woman to win a WTA title.
Sania Mirza vs Marion Bartoli, US Open 2005
Sania Mirza defeated Marion Bartoli 7-6, 6-4 in the third round of US Open 2005 and became the first-ever Indian to reach the fourth round of a tournament before losing to Maria Sharapova. Sania dominated the match and came out on top in straight sets against the French Ace.
Sania Mirza and Mahesh Bhupati vs Nathalie Dechy and Andy Ram, Australia Open 2009
Winning the 2009 Australian Open with Mahesh Bhupati was a historic moment as it made Sania the first-ever Indian woman to win a grand slam of any kind. The duo defeated the French and Israeli team of Nathalie Dechy and Andy Ram 6-3, 6-1 in straight sets in the final.
Sania Mirza-Martina Higgins vs Elena Vesnina and Ekaterina Markova, Wimbledon 2015
No Indian woman had ever won a Wimbledon title but it all changed, when Sania Mirza and her partner Martina Higgins lifted the prestigious trophy in 2015. They defeated the pair of Vesnina and Markova 5-7, 7-6, 7-5 in a thrilling final and etched their name in history.
Sania is the highest-ranked female player ever from India, peaking at World No 27 in mid-2007. However, a wrist injury forced her to give up her singles career and focus on the doubles circuit. Along with being one of the most decorated Tennis players from India she is also a role model for many. Mirza was named one of the '50 Heroes of Asia' by time in 2005. Sania was appointed as the UN Women's Goodwill Ambassador for South Asia during the event held to mark the International Day to End Violence against Women on 25 November 2013. Sania Mirza was also named in Time Magazine's 2016 list of the 100 most influential people in the world.