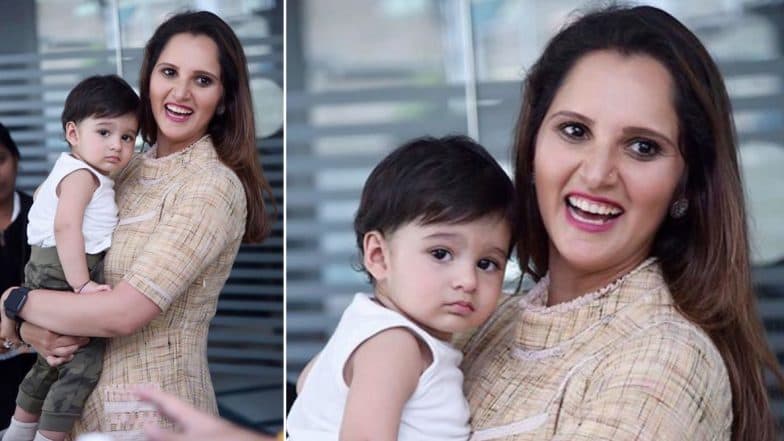 Sania Mirza shared a cute photo with her son Izhaan Mirza Malik on her social media account. The Indian tennis ace also shared an interesting caption with the photo. After becoming a mother last year, Mirza has been constantly sharing cute photos of his son. In the photo, Mirza was seen holding her son in her arms. Izhaan also looked at the camera in the photo.
Mirza pointed out that her son always spots the camera. "Doesn't matter where I am looking this kid always finds the camera #Izzy", she wrote along with the photo. Have a look at the cute photo below. Sania Mirza's Adorable Photo With Son Izhaan Mirza Malik Will Melt Your Heart, Check Instagram Post. 
Cuteness Unlimited!
Mirza had recently shared a photo with her son. In that photo, she was seen playing with her son while lying on a sofa. Mirza is married to Pakistani cricketer Shoaib Malik. The couple tied the knot in 2010. They are among one of the most popular Indo-Pak couples. They became parents of their first child in 2018. Sania Mirza's Sister Anam to Marry Mohammad Azharuddin's Son Asad in December, Reveals Indian Tennis Star. 
Sania Mirza recently revealed that her sister Anam Mirza is going to tie the knot in December. Mirza revealed that she returned from the bachelorette trip to Paris. Anam, who is a fashion stylist and entrepreneur, is set to marry former Indian cricketer Mohammad Azharuddin's son Asad. Anam was earlier married to businessman Akbar Rasheed but the couple got separated in 2018. Asad is a cricketer like his father. He played his debut Ranji 2018-19 match for Goa in 2018. He is a left-handed batsman.