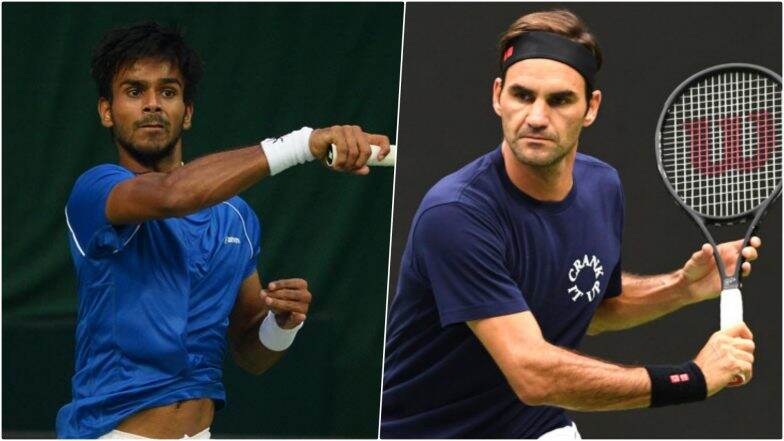 India's Sumit Nagal has made sure millions will watch him round the world after setting up a first-round clash against the great Roger Federer at US Open 2019. The Haryana boy defeated Brazil's Joao Menezes 5-7,6-4,6-3 in the final qualifying round to make it to the group stages of the tennis' last grand slam of the year. Playing against Roger Federer at the Flushing Meadows is something the 22-year-old could not have comprehended, but it is indeed a reality now. It also goes to showcase the revival of sorts for Indian tennis which has been lying low, especially in the singles events. Here are five facts to know about the young tennis player. US Open 2019: India's Sumit Nagal to Face Roger Federer in New York.
1. This is the first time since 1998 that India will have two representatives in the singles competition of a Grand Slam event as Sumit Nagal along with Prajnesh Gunneswaran are part of the US Open. Mahesh Bhupati and Leander Paes were part of the 1998 Wimbledon showpiece.
2. Sumit Nagal won the 2015 Wimbledon Boy's Doubles championship along with Ly Hoang Nam of Vietnam. The pair defeated Reilly Opelka and Akira Santillan of USA and Japan respectively 7-6,6-4. The result created quite a buzz in Indian media back then as it highlighted Nagal's potential and helped him come out of obscurity.
3.  He was dropped from India's Davis Cup squad slated to face New Zealand in 2017 owing to indiscipline. The reason given by the board was that the youngster missed a practice session in Chandigarh owing to a hangover. They were reports of him bringing his girlfriend to the camp as well. All these allegations were refuted by Sumit Nagal who got the support of compatriot Somdev Devvarman.
4. He credits his rise in tennis to the support provided by Mahesh Bhupati whom he requested to look at his game back in his initial years. He is still personally managed by Mahesh Bhupati through Globosport.
5. Sumit Nagal resides in Germany where he is coached by Argentina's Mariano Delfino. Prior to his stay in Germany, he spent a few years in Canada under the guidance of Bobby Mahal.
It is an important day for all the budding Indian tennis players as one of them gets the chance to play the best. It is moments like these that inspire a whole generation of youngsters to get into the sport and follow their passion.