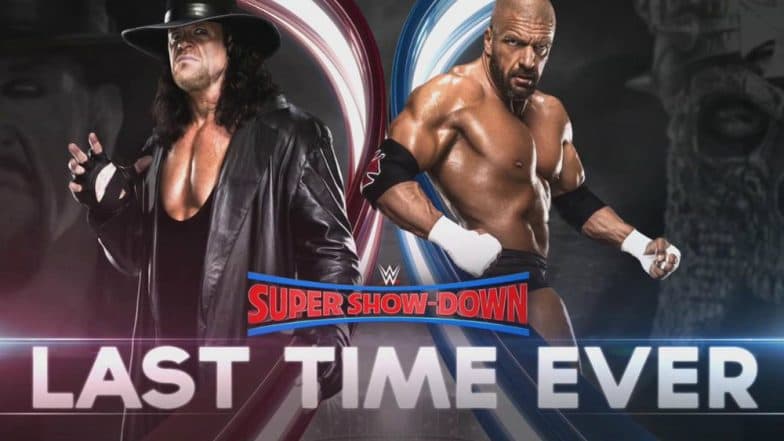 Triple H vs The Undertaker, One. Last. Time. Hold your breath, folks! The two legends of World Wrestling Entertainment (WWE) are set to compete in the ring, all over again. Don't believe it? Well, the two icons are booked to fight, again, this time at WWE's Super Show-Down event, in Melbourne!
Yes, you read it right. The two legendary yesteryear wrestlers are set to battle, again, for the last time ever, at a WWE show that will take place in Australia. If you think that you have seen the last of both, Triple H vs The Undertaker, then you are mistaken.
Here's what you should expect, Triple H vs The Undertaker Match Preview:
Triple H returned to Monday Night RAW, this past week, and announced that he would be facing The Undertaker at WWE Super Show-Down event, one last time. He talked about their era was better than the current one.
Here's what Triple H had to say about 'The Game' vs 'The Phenom' for one last time:
Both Triple H and The Undertaker had a historic bout at Wrestlemania 28 in 2012. The duo clashed and battered each other like never before. The Hell in a Cell match was billed as 'End of an Era', and with Shawn Michaels refereeing the event, it was much more special. The duel was quite a spectacle, and for many, tears trickled down their eyes as the trio walked on the ramp after the match got over.
Here's the video of The Undertaker vs Triple H at Wrestlemania 28; 'End of an Era'.
 The Undertaker vs Triple H match at WWE Super Show-Down would entirely be a treat for WWE fans worldwide. Who wouldn't want to see the legends in pro-wrestling compete again?
There are a lot of other matches scheduled to take place at the event, which would also see John Cena make a return. WWE Super Show-Down will take place on October 6, in Melbourne in Australia. Stay tuned with us for all the latest updates about WWE!