Two weeks into the last month of 2018 and it is time to take a quick recap of the year passing by. Pornhub.com, Canadian pornographic video sharing website has released their annual year in review, and it is giving some serious in-depth information about us! According to the largest pornography site, "Indian Bhojpuri XXX" is the most-searched word on Pornhub.com. It has surpassed the porn words likes of "Telugu Blue Film" and "Desi Gujarati Sex." Meanwhile, "Hindi Sexy Film", "BF Sexy Video", "Hindi Sexy Movie" lead as the most-searched keywords on the X-rated website among Indians in the country. 'Hot Sexy Teacher' XXX Searches in India Grew By 423% on Pornhub.com.
It is interesting how a plethora of stats, facts, data and information reveals so much about us every year by Pornhub. India, the country continues to remain the land of extreme opposites. On one hand, sex or anything related to it is a taboo topic, but as per the latest Pornhub.com 2018 review, India ranks third behind the United States of America and the United Kingdom to visit the adult website.
Speaking of the search terms, it is not surprising to see the inclination towards Bhojpuri videos. The regional cinema industry is notorious when it comes to risqué content. Bhojpuri songs were always laden with sexual innuendos, but now they are gaining a lot of traction on the internet. Despite being mainstream entertainment industry, Bhojpuri movies and songs continue to grab eyeballs with bold, suggestive and titillating content.
Annual year in review by Pornhub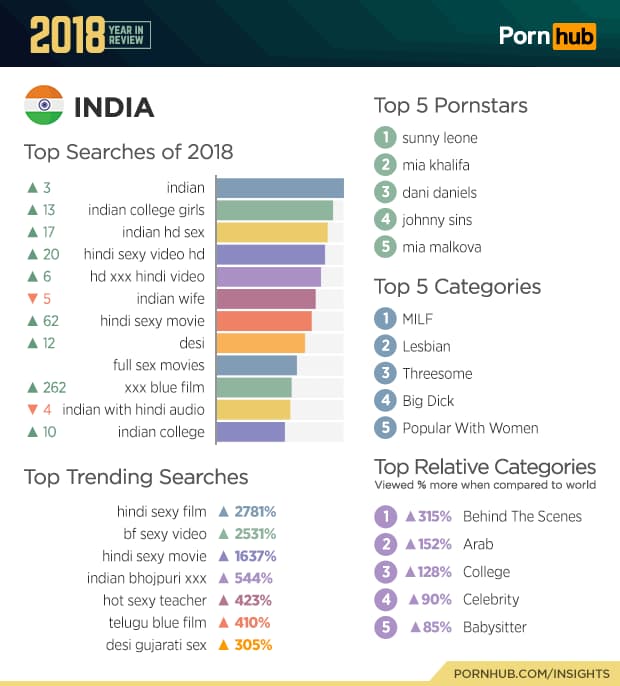 Speaking of Pornhub.com, the largest porn site has had a successful 2018. Going up by 5 billion from last year, it recorded 33.5 billion visits (Earth supports 7.53 billion people #JustSaying) this year. India, meanwhile is contributing to Pornhub's traffic, despite its government sharing a not-so-cordial relationship with the adult industry (Remember, the bans on the website). What is more interesting about India's traffic on Pornhub is that it has seen a rise in visits by female users. Thirty percent of Indian women have browsed the porn site for free pleasure, an increase of 4 percent from last year.