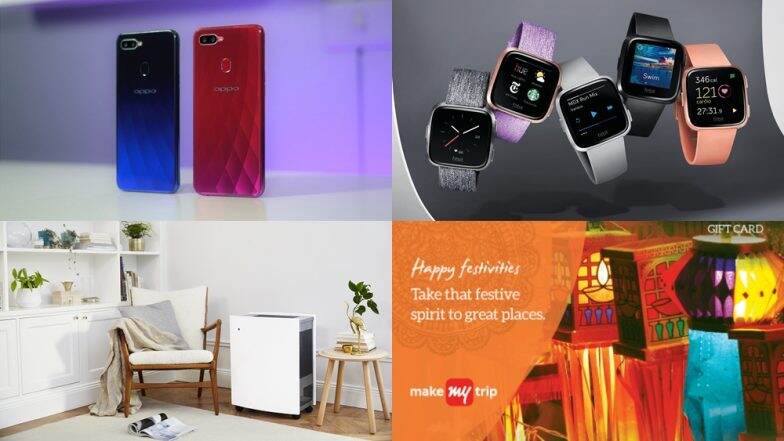 Diwali is indeed a very pious occasion, and the investments made on this day are said to bring in good returns in the future. Investments in smaller possessions matter as much as big investments, making it imperative to think smart and spend money on what matters. With keeping the environment in consideration, think about spending money this festive season on things apart from fire crackers. Diwali 2018 Discounts & Offers on Maruti Suzuki Cars: Get Up to Rs 75,000 Discounts on Maruti Alto, WagonR, Ertiga, Swift & Dzire.
Here a few small things you can spend on this Diwali:
Get smart with a new smartphone: Invest in a smartphone this Diwali, the latest OPPO F9 Pro is a good choice to splurge on. The 25-MP selfie camera is ideal to capture celebratory moments with your family. The smartphone also packs a 16 MP primary sensory ensuring clear and pretty snaps of the Diwali pooja and decorations. Make complete use of the camera to ensure your social media is decked up for the festivities. You can also match the stunning phone with your new and bright Diwali outfit to make a fashion statement. Diwali 2018 Last-Minute Gift Ideas: Haven't Gone Shopping Yet? Give These Easy Presents to Your Loved Ones This Deepavali.
An Uber Diwali: You can light up your Diwali by exploring Diwali Melas around the city. All you need to do is tap a button and your Uber will arrive. It is the most convenient and affordable investment to explore and is available around the clock. It offers variety of products to meet your demand. You can also send love in the form of gifts to your loved ones with a first of its kind Uber E-Gift Card. You can gift your friends and families the joy of getting a ride or enjoying a delicious meal, anytime, anywhere, as the gift card is redeemable across Uber and Uber Eats. Diwali 2018: 5 Healthy Recipes For The Festive Season That Don't Compromise on Taste!
Indulge without fear: The festive season brings with it delicious food and kilos of mithai and no matter how hard we try to hold back, we end up munching a lot without realising especially when your missing family and friends. This Diwali don't worry about the calories in take, invest in the Fitbit versa which will help you track it and help you shed all the extra calories with its personalised coach feature. Fitbit Versa helps you track your fitness on the go while providing deep and helpful insights on your overall health and wellness like sleep tracking, heart rate, calorie intake, active minutes and also motivates you to be on the move with constant reminders. Fitbit also tracks female health while helping its users better understand their menstruation cycle, fertility, among others. Available in black, grey and peach, you can lay your hands on it at a price of INR 19,999. Diwali 2018: Tips For Hosting The Perfect Party For The Festival of Lights.
Invest in hyperlocal travel experiences: Investing in travel is a perfect thing to do this Diwali. Spending heavily on crackers not only pollutes environment but also seems to be a wastage of your hard-earned money. Instead spend your time and money judiciously  and create a memory that will last longer than crackers through MMT EXPERIENCES.  It provides highly curated and unique hyperlocal experiences that a city has to offer. EXPERIENCES allows you to discover the city by offering thousands of specially curated leisure activities including entertainment shows, adventure sports, amusement parks, dining, outdoor activities, luxury spas, exclusive deals with restaurants and a whole lot more that you can choose from by selecting Price, Location, Ratings and Duration. You can also make use of the My Wallet money on MMT App to purchase these experiences. EXPERIENCES will help consumers find the best leisure activities on MakeMyTrip, managed entirely within the app and without having to rely on or being redirected to any third-party apps.
Invest in clean air with Blueair Classic I series: Rather than polluting the environment by burning crackers, buy a breath of fresh air for your loved ones this Diwali. These days, keeping the air quality in mind, clean air is no less than a luxury, hence air purifiers have become a necessity. And what can be better than investing in an air purifier this festive season! Blueair Classic I series is advanced air purifier available in three sizes, with Wi-Fi connectivity and integrated air quality sensors it gives more control over the air quality at home. An updated digital control panel and convenient LED touch buttons help you keep track of  your room air quality with indications of PM2.5 and VOC levels. Download the Blueair Friend app and connect it to Classic I series air purifier to control functions such as operating speed, child lock, night mode etc with you smart device from anywhere in the world. Blueair Classic with its HEPASilent Technology removes 99.97% of all air borne pollutants down to 0.1 micron in size with whisper silent performance without consuming much energy. Using the best in electrostatic and mechanical filtration, HEPASilent Technology is a revolutionary combination of advanced filter media and an encapsulated particle-charging chamber, which ensures that your Blueair air purifier delivers results far superior than either mechanical or electrostatic technology alone.  Hence with Blueair Classic 280i, you breathe air which is potentially free of all allergy & asthma triggers.