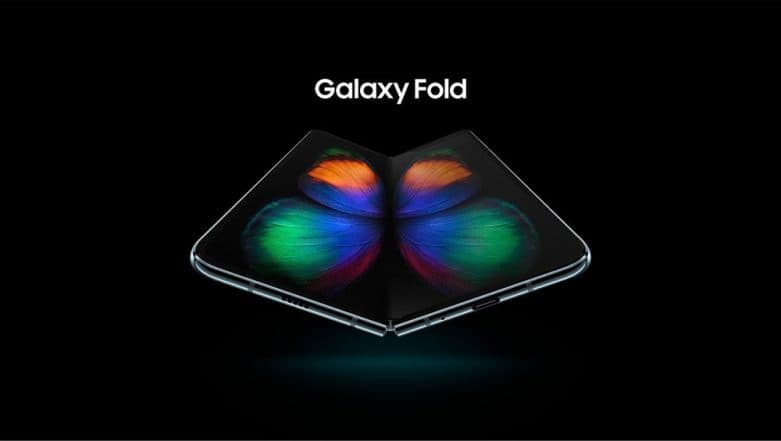 Samsung, the Korean phone maker started giving out its first foldable smartphone to global publications. The Galaxy Fold was initially unveiled in February alongside Galaxy S10 lineup, showcased within a glass boxes. The company has started taking pre-orders for the new Galaxy Fold device. As the US media has started receiving the review units, the initial response on the Galaxy Fold is not that great as it has raised some serious questions on durability of the phone. The phone manufacturer has claimed that Galaxy Fold is capable of withstanding fold or unfolds at-least for 200,000 times. Samsung Galaxy Fold First Batch Sold Out Immediately After Pre-Order Sale; India Launch Next Month.
Within one day of unboxing, several Galaxy Fold devices are reportedly breaking with particular damage to the foldable sreen. The issue happened in the majority of the cases after removing the protective plastic film provided on the top of the display. According to the user manual, the company has specifically asked the users that the protective film should not be removed. However, it is also reported that there is no clear warning or caution issued about this. In some cases, the display screen broke when the protective film was untouched by the reviewers. Foldable Phones to Remain a Niche Product Through Next Five Years: Gartner.
After one day of use... pic.twitter.com/VjDlJI45C9

— Steve Kovach (@stevekovach) April 17, 2019
Samsung's spokesperson said in a statement that, "The main display on the Galaxy Fold features a top protective layer, which is part of the display structure designed to protect the screen from unintended scratches. Removing the protective layer or adding adhesives to the main display may cause damage. We will ensure this information is clearly delivered to our customers."
PSA: There's a layer that appears to be a screen protector on the Galaxy Fold's display. It's NOT a screen protector. Do NOT remove it.

I got this far peeling it off before the display spazzed and blacked out. Started over with a replacement. pic.twitter.com/ZhEG2Bqulr

— Marques Brownlee (@MKBHD) April 17, 2019
On the specification front, the Samsung Galaxy Fold features a 7.3-inch Dynamic AMOLED display with aspect ratio of 4.2:3 and primary display of 4.6-inch Super AMOLED screen featuring an aspect ratio of 21:9. As the device is currently available for pre-orders in the US, other markets are still awaiting pre-order commencement. The South Korean smartphone manufacturer reportedly will be launching the Galaxy Fold in India by next month.