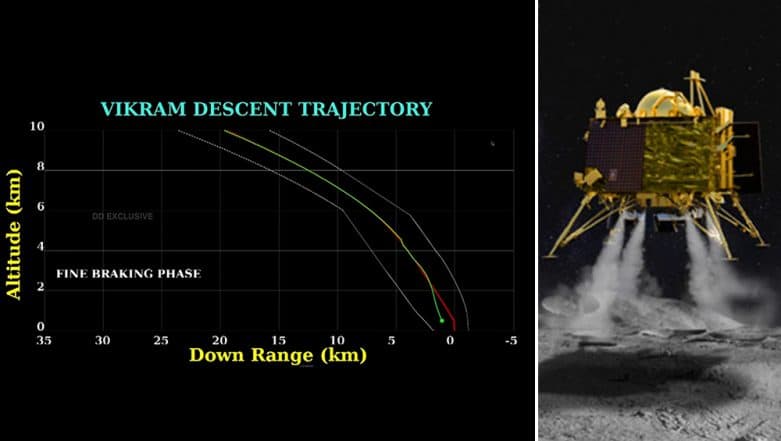 New Delhi, September 9: The efforts by Indian Space Research Organisation (ISRO) scientists to re-establish contact with Chandrayaan-2's Vikram lander are in full swing after the space agency on Sunday announced that it has traced the lander on the Moon's surface. The news has lent a ray of hope and cheer among Indians and scientists of the space agency. However, senior officials associated with the mission state that as time is running out, the possibility of re-establishing communication with the Vikram lander looks less probable. Chandrayaan 2: Exact Location of Vikram Lander on Moon's Surface Traced.
According to a report by Firstpost, a senior official associated with the mission said, 'As time goes by, it's difficult to establish the link with the Vikram Lander' He added saying that with 'right orientation', the lander can still generate power and recharge batteries with solar panels. However, it looks less and less probable, progressively, he added. Chandrayaan 1 Director Mylswamy Annadurai Explains Why Chandrayaan 2 Lander Vikram Isn't Receiving Signals.
On Sunday, when ISRO Chief K Sivan was asked if the lander was 'damaged" during the 'hard landing", he said, "That we do not know". But some space experts said Vikram suffering damage in the hard-landing cannot be ruled out. An official was quoted saying that the 'hard-landing' of Vikram on the Lunar surface has made the task of linking again with it that much difficult. The official added saying that the impact shock may have caused damage to the lander as the landing has been rough and may not have landed on its four legs.
Considered as the "most complex" stage of the country's second expedition to the moon, the lander was on a powered descent for a soft landing when it lost contact with ISRO's ground stations on Saturday. The communications between India's moon lander Vikram and the orbiter got snapped as the former was only 2.1 km away from its designated landing spot on the moon's South Pole early.
According to ISRO, 90 to 95 percent of the Chandrayaan-2 mission objectives have been accomplished and it will continue contribute to lunar science, notwithstanding the loss of communication with the lander.