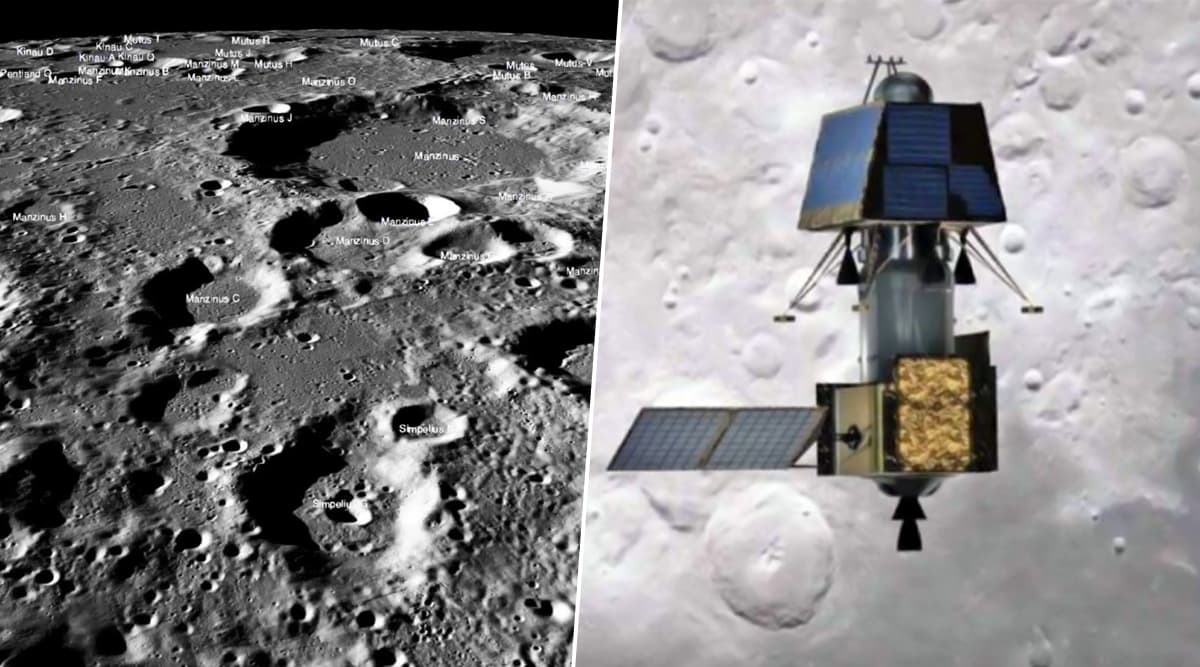 New Delhi, September 27: Almost 20 days after Chandrayaan 2's Vikram lander lost connection with Indian Space Research Organisation (ISRO) ground station, US space agency NASA on Friday revealed that the lander had a hard landing on the Moon's uncharted south pole, after which it lost contact. The space agency further stated that the exact location of the spacecraft in the lunar highlands has yet to be determined. NASA also released high-resolution images captured by its Lunar Reconnaissance Orbiter Camera (LROC) during its flyby of the lunar region where the ambitious Chandrayaan 2 mission attempted a soft landing. The pictures reveal that Vikram lander had a hard landing on September 7. Chandrayaan-2 Orbiter Doing Well but No Signal From Vikram Lander, Says ISRO Chief K Sivan.
NASA Finds Vikram's Landing Site, Not Able to Locate Lander
Chandrayaan 2 was India's first attempt at a soft landing on the Moon. According to NASA, the site was located about 600 kilometres from the south pole in a relatively ancient terrain. NASA's LRO passed over the landing site on September 17 and acquired a set of high-resolution images of the area. Reports inform that so far the LROC team has not been able to locate or image the lander. John Keller, Deputy Project Scientist Lunar Reconnaissance Orbiter Mission at the Goddard Space Flight Centre was quoted by PTI saying that the LRO will next fly over the landing site on October 14 when lighting conditions will be more favourable. Chandrayaan 2: Exact Location of Vikram Lander on Moon's Surface Traced.
Vikram Lander Possibly Hiding in Shadow, Says NASA
The US Space agency on its website stated that it was dusk when the landing area was imaged and thus large shadows covered much of the terrain; it is possible that the Vikram lander is hiding in a shadow. The lighting will be favorable when LRO passes over the site in October and once again attempts to locate and image the lander.
NASA Releases High-resolution Images of Chandrayaan 2 Landing Site
Our @LRO_NASA mission imaged the targeted landing site of India's Chandrayaan-2 lander, Vikram. The images were taken at dusk, and the team was not able to locate the lander. More images will be taken in October during a flyby in favorable lighting. More: https://t.co/1bMVGRKslp pic.twitter.com/kqTp3GkwuM

— NASA (@NASA) September 26, 2019
As per ISRO's plan, the Vikram lander module was to make a soft landing on a small patch of lunar highland smooth plains between Simpelius N and Manzinus C craters. But, early on September 7, Vikram, while on its descent to soft land on the Moon's south polar region, apparently lost control and crash-landed there, snapping the communication links.
According to reports, all was going well with the 1,471 kg Vikram that had begun its descent at about 1.38 am on September 7 from an altitude of 30 km at a velocity of 1,680 metres per second. Days after Vikram lost contact, ISRO reiterated that the Orbiter had located Vikram and said efforts were underway to establish contact with the lander.
The Chandrayaan-2 spacecraft comprised three segments -- the Orbiter (weighing 2,379 kg, eight payloads), Vikram (1,471 kg, four payloads) and Pragyan (27 kg, two payloads). On September 2, Vikram separated from the orbiter. On July 22, the Rs 978 crore Chandrayaan-2 was launched into the space by India's heavy lift rocket Geosynchronous Satellite Launch Vehicle-Mark III (GSLV Mk III) in a text book style.