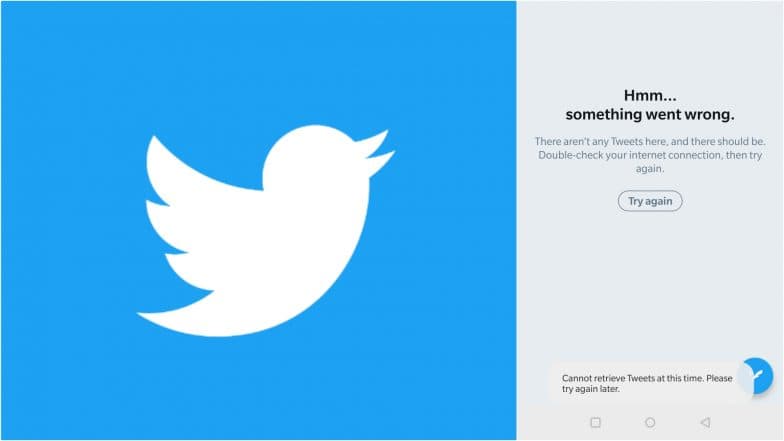 Mumbai, August 21: Twitter services in India were restored after the micro-blogging site Twitter reported major outage on Wednesday and "Twitter goes down again!" messages were shared by users. The users of the micro-blogging site experienced a sudden outage of services which caused anguish to users across the globe. A Twitter spokesperson said, "Some people in India briefly experienced issues accessing Twitter due to a network issue impacting Android. We have resolved the problem and the service is running again."
Users are not able to see tweets and the timeline says "Something went wrong." This is the second major outage faced by Twitter within close to a month. Twitter Goes Down Again! Users Unable to Retrieve, Send or Check Tweets Across the World.
The earlier outage, which took place on July 12, displayed the message, "Cannot retrieve tweets at this time. Please try again later." Some users initially complained about the non-working of the site, but later users across confirmed the news about the outage.
Check a Screenshot of Twitter as the Social Media Site Remains Down!
See the Tweets Below
Is #Twitterdown in India????

— திருட்டு பூனை (@KumarS01951920) August 21, 2019
Another Tweet Complaining!
Web based twitter down ?

— T R S 🇮🇳 (@trsriniwas) August 21, 2019
More Shares on Outage
What's happening #Twitter . What went wrong? #twitterdown #Tweets pic.twitter.com/9fqFZyz0y0

— Priyanka Prasad (@priyanka_pd) August 21, 2019
The users took various other social media platforms to check if Twitter is down and the outage is world-wide. Twitter being the hotbed for news, views and all things happening around the world, has very much become an indispensable part of lives of internet users. As soon as Twitter stopped working, Twitterati looked for ways to complain about it on other social media sites like WhatsApp and Instagram. However with services restored, Twitterati is happy to be in the world of hashtags and trends.