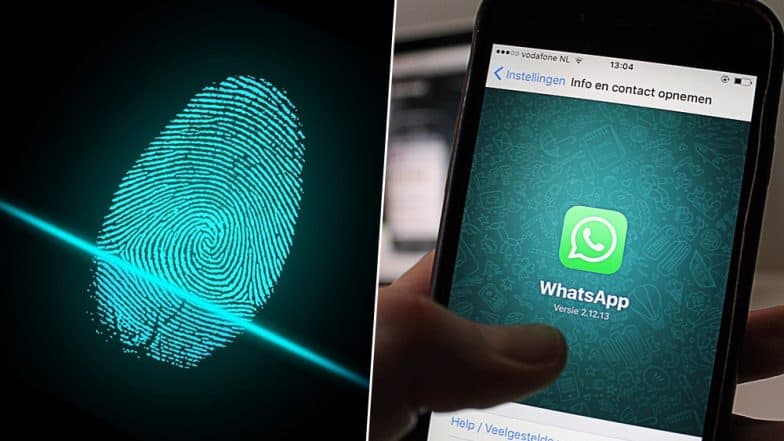 WhatsApp, an instant messaging platform is amongst the most used applications by smartphone users. With most people using it as a source of communication, the security concerns regarding the app are also on the rise. WhatsApp is also known to introduce new features every few days in order to enhance the user experience. A new report suggests that the messaging application will soon get a fingerprint authentication for Android users to add more security and prevent others from seeing your chats. WhatsApp Dark Mode Coming Soon - Report.
According to WABetaInfo, the WhatsApp beta for Android 2.19.3 update saw the new authentication feature. A report noted, "After working to implement Face ID and Touch ID features on iOS (that aren't available yet for development reasons), WhatsApp has finally started to work on the Authentication feature on Android, using your Fingerprint!" New WhatsApp Features in 2019: Top Features Coming To Platform This Year.
Check Tweet About WhatsApp's New Feature of Fingerprint Authentication
WhatsApp beta for Android 2.19.3: what's new?

WhatsApp is finally working to implement the Authentication feature to protect the app using your Fingerprint, under development!

Info about other features are available in the article.https://t.co/yO6R6pOlsV

— WABetaInfo (@WABetaInfo) January 8, 2019
A new section will be added to the application which will enable the fingerprint authentication feature. This will add another level of security to the application. So every time a user opens the app, they will have to authenticate themselves with a fingerprint sensor. If the app rejects your fingerprint then you can unlock it with your device's password. This feature is being developed and will be available to users who have Android Marshmallow and above.
While also working on a dark mode, the new update will also give a preview of the audio files before sending them. There will be an increase in the number of audio files that can be sent at a time. The application is doing its best to include every possible feature that can be introduced to make it more convenient for its users.