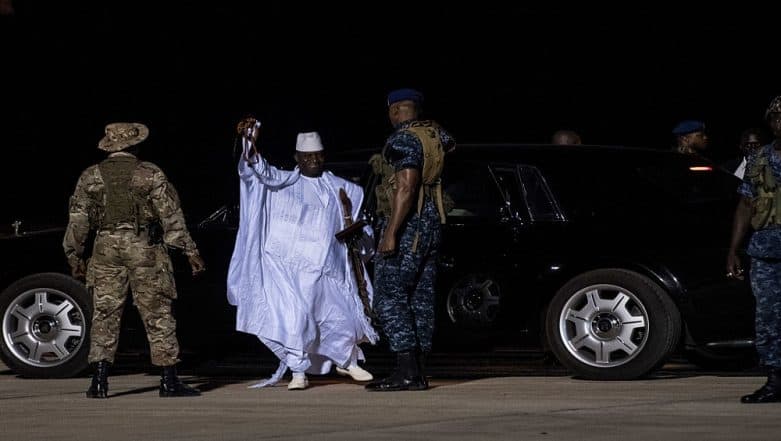 Banjul, June 26: Yahya Jammeh, the former longest-serving president of Gambia, "handpicked" girls to rape and sexually abuse them, according to a report prepared by the Human Rights Watch (HRW) in coordination with Swiss NGO Trial International. The sexual assaults were committed by him between 1996 to 2017, the report claimed.
The investigation into the sexual abuse allegations were based on evidence extracted from four women, eight former Jammeh-era officials and scores of witnesses who have testified against the erstwhile Gambian strongman. Donald Trump, Accused of Raping Woman in Dressing Room in Mid-1990s, Dismisses Allegations As 'Fiction'
The HRW report claims that Jammeh had instructed his cousin Jimbee Jammeh to create a list of "protocol girls", who should be available for sex with him whenever he demands.
The girls, handpicked by him, would be coerced for sex through largesse being granted to them viz foreign study scholarships, monetary aides for impoverished families and expensive gifts.
However, refusal for sex despite being offered lavish favours could result into cases of rape, as alleged by Toufah Jallow, former winner of Gambian beauty pageant.
Jallow, who was 18-year-old in 2014, told the investigators that she was raped that year after she began refusing Jammeh's offer to have sex and the proposal to marry him.
For pre-Ramadan Quran recitation, she was invited at Jammeh's residence. Considering it to be a formal auspicious event, she decided to attend.
However, Jallow alleged that she was locked up in a room where Jammeh raped her.
Apart from her, two other women have also publicly levelled rape allegations against the military chief-turned-president who ruled Gambia for 22 years.
Notably, Jammeh faced a shock election defeat in 2017, after he was uprooted in the elections by Adama Barrow, a real-estate agent, who had recently taken the political plunge.
Despite claiming before the polls that he was "selected by Allah" to rule Gambia for "a billion years", Jammeh was backed by only 36.7 per cent of the electorate, as opposed to 45.5 per cent voting in favour of Barrow.