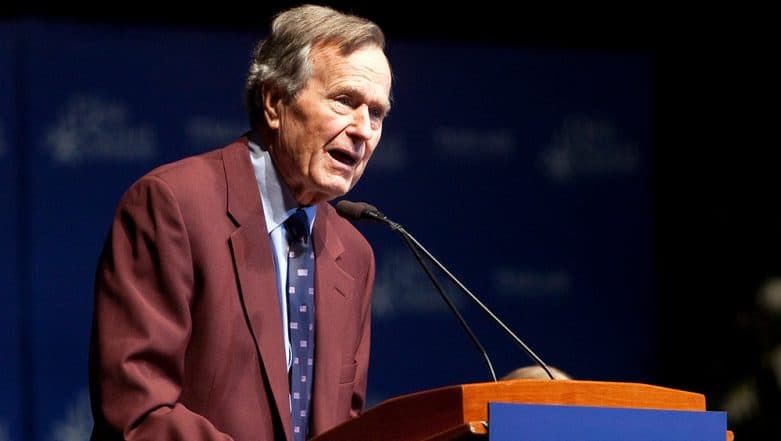 It is a sad for American Republicans as the 41st US President George H W Bush passed away on Friday night. The former US President, often hailed as WWII hero was suffering from Parkinson's disease along with several other ailments. George Herbert Walker Bush served as the 41st U.S. president from 1989 to 1993. In his tenure, he launched successful military operations but his popularity hit a low after the economic recession. In 1992, he lost the re-election to Bill Clinton. As people remember fondly his political career and implementations, let us look at some of his historic speeches.
Bush's foreign policy received a lot of appreciation and support from the Americans. He made important pieces in legislation like the Disabilities Act of 1990 and the Clean Air Act Amendments of 1990. A huge part of his political career is the improving of US- Soviet relations. George H W Bush was a confident speaker and proved time and again, he was his own man. He included wit to entertain the audiences at times.
Famous Speeches of Late US President George H W Bush
The Famous "Read My Lips" Speech
George H W Bush spoke while he accepted the nomination for the presidential candidate at 1988 Republican National Convention. The line, "Read my lips, no new taxes" became a famous soundbite from that speech. His campaign
Victory Speech After 1988 Election
It was one of the biggest moments of George H W Bush's political career, his victory in the 1988 elections. He thanked his friends, family and made a wonderful remark at wife Barbara becoming the first lady of US.
George H W Bush Announcing the end of Gulf War in 1991
The end of the Gulf War was an iconic moment from George H W Bush's political career. He spoke about the promise of peace and declared the end of Gulf War. He spoke about the efforts of the military and appreciated those who made it successful.
He was known for skillfully handling the foreign affairs and was among the most experienced public servants in the US political history. His foreign policies were his notable accomplishments and left a great example of leadership qualities for future generations.