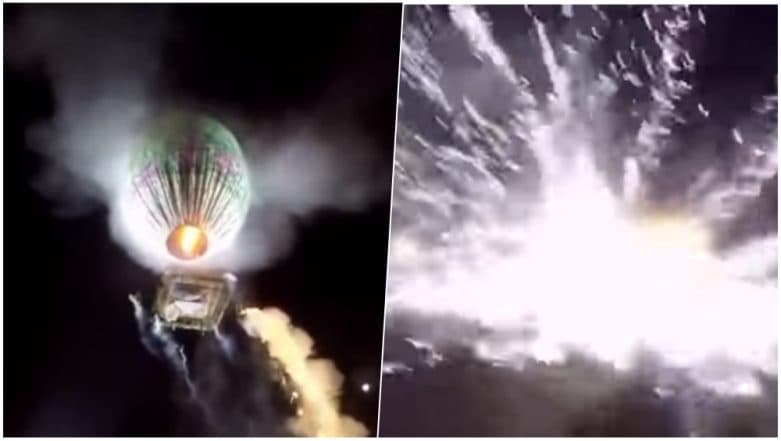 The Tazaungdaing Festival of Lights is a Burmese festival that is celebrated in Myanmar every year. The festival sees a lot of audience coming in for a visit and a common tradition from the festivities includes releasing hot air balloons in the air. However, the celebrations this year turned tragic when a hot air balloon full of fireworks exploded over a gathered crowd. People were running for cover and few were left injured in the process. The incident took place on November 14 at Taunggyi, Myanmar and the scary scene was even caught on video.
The video shows the hot air balloon heading upwards, while some fireworks are exploding from it to the sides. But no sooner, the balloon exploded and the fireworks were left bursting and the balloon came crashing down. The spectators were scared and running for a shelter. It proved to be a serious injury for two people. Royal Caribbean's Private Island Cruise is Modernising Further With Hot Air Balloons, 135-Foot Water Slide And Enhanced Nightlife.
Watch Video Showing Hot Air Balloons With Fireworks Exploding on Crowd at the Tazaungdaing Festival in Myanmar 
Nine people were injured in Myanmar after this hot air balloon filled with fireworks exploded onto a crowd at an annual festival.

For more of today's videos: https://t.co/iOm40vn1kt pic.twitter.com/qzwbWBcTcG

— Sky News (@SkyNews) November 17, 2018
It is a rather scary sight and although few people were injured, it could have resulted in something really fatal. Similar such incidents have been reported from the past at this festival. Some on social media commented that the festival off late has become more of a hot air balloon competition. This festival marks the end of the wet season in the area. The festive traditions commemorate a widely known story of the Buddha's life. The origin of hot-air balloons contest dates back to 1894 and has been followed ever since.