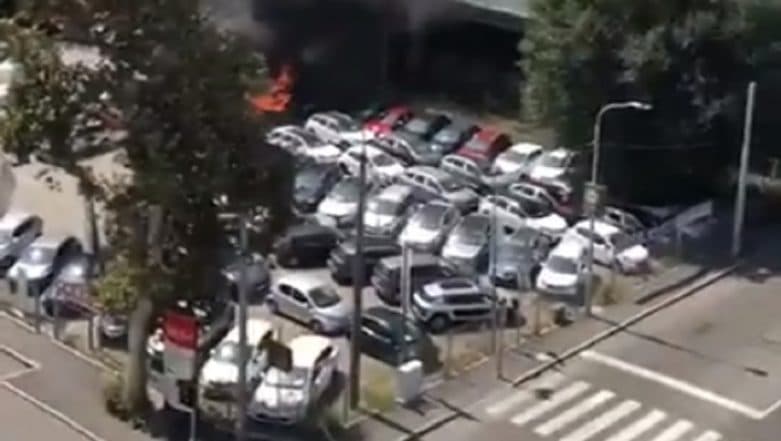 Bologna, Aug 6: A huge explosion took place near an airport in the Italian city of Bologna, sending a massive fireball into sky. The blast occured after a petrol tanker crashed on a motorway close to the airport about 12.50 pm local time. Casualties were feared, while initial reports suggested 20 people were wounded in the explosion.
"Due to an accident on the highway, an explosion occurred resulting in a fire at Via Marco Emilio Lepido," the police said in a statement on Twitter. Some people were injured as a violent blaze erupted, followed by several explosions, Xinhua news agency reported. Visuals from the spot showed a huge ball of fire erupting.
#borgopanigale #Bologna pic.twitter.com/8OyQvPERHS

— VecchioRincoglionito (@Fabio__Franci) August 6, 2018
Violent explosion in Bologna, presumably near the local airport. Bologna https://t.co/i2S7biauOO pic.twitter.com/P8n1MAZi6f via @JeromePio #Italy

— Live Eurasia Map (@eurasiamap) August 6, 2018
Cosa sta succedendo? Esplosione in corso a #bologna pic.twitter.com/nDEjgRt8bk

— Biagio Tozzi (@biagiotozzi) August 6, 2018
The cause of the explosion is not yet known.There has been no confirmation of any fatalities so far. Some eyewitnesses claimed a lorry carrying other cars was involved in the crash. It is not clear whether if more than one vehicle was involved in the mishap. People living far from the accident site said the blast was so powerful that it shook thier houses.