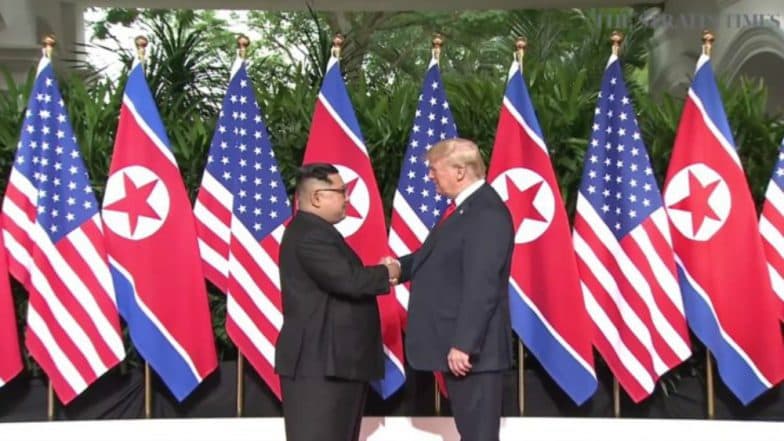 Hanoi, February 26: The United States of America's president on Tuesday arrived in Vietnam's Hanoi for the second summit with North Korean leader Kim Jong Un. The two-day summit will take place on February 27 and 28. Trump announced the dates of the summit on February 5 during his second State of Union Address in the house of Representatives. Donald Trump, Kim Jong-un Hold One-on-One Meeting at Singapore Summit, Vow to Resolve All Disputes.
Trump arrived in Hanoi:
#WATCH USA President Donald Trump arrived in Hanoi, Vietnam earlier today for a second summit with North Korean leader Kim Jong Un. pic.twitter.com/ua7hK9SVxh

— ANI (@ANI) February 26, 2019
Before leaving for Hanoi, Trump held a meeting with the governors of 36 states. He told them that during the summit, he would be having a discussion with the Korean leader on denuclearisation. Meanwhile, Jong-un arrived in Hanoi earlier in the day. He travelled over 4,000 km to reach the summit venue. His train also passed through the Chinese city of Changsha on Monday.
The North Korean leader's armoured convoy, which departed from Pyongyang on Saturday, passed through Changsha, capital of the central Chinese province of Hunan, at around 1.10 p.m. on Monday, a source told South Korean news agency Yonhap. The train halted for around half an hour at the station in Changsha, before resuming its journey southward, according to the source.
The North Korean dictator is the first leader from the country to visit Vietnam in nearly 55 years. The two leaders met in June last year at a resort island of Sentosa in Singapore for the first time. Following the 48-minute discussion, the two heads of state vowed to resolve all pending disputes.