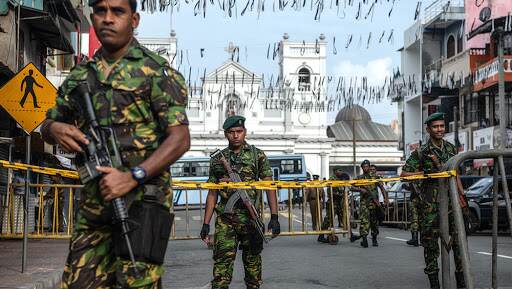 Colombo, May 13: The Sri Lankan police on Monday imposed a curfew in the Northwestern Province with immediate effect, hours after that escalation of communal violence in the area. The violence in the Sri Lankan town erupted after social media posts against the Muslim community.
Making the announcement, Police Media Spokesperson SP Ruwan Gunasekara said, as reported by Colombo Page, that the measure was taken to curtail escalation of communal violence and to prevent future disruptions of peace. He also informed that in the violence, several Muslim shops in Kuliyapitiya area were felted with stones on Sunday and today. Sri Lanka Easter Blasts: Government Blocks WhatsApp, Facebook Following Tensions Between Minority Muslims and Sinhalese. 
It is to be known that the fresh imposition of curfew would be effective until further notice to prevent a breach of law and order. This is an addition to the curfew imposed in six police divisions to control the situation previously.
Earlier, the authority had temporarily banned social networks like Facebook, Instagram, and YouTube and instant messaging apps like Snapchat, Viber, WhatsApp, and IMO after a Facebook post sparked attacks on mosques and businesses owned by Muslims across several towns on Sunday.
This move comes days after deadly bomb blasts killed at least 300 people in the country. The authorities had then imposed a ban on social media which was eased a few days back.