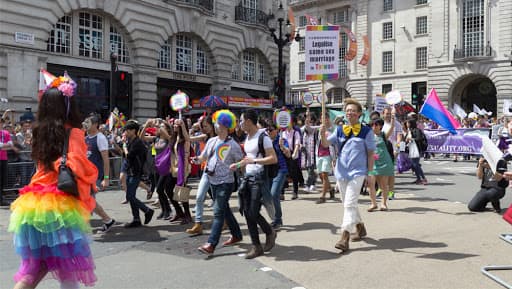 Taipei, May 17: Taiwan became the first country in Asia to pass the legalise same-sex marriage and with this, people in the south-east nation are seen celebrating on the streets of Taipei on Friday. The landmark judgement comes two years after Taiwan's Constitutional Court in May 2017 gave parliament two years to adjust laws. The court had allowed same-sex marriages in its judgement that time.
With Taiwan's legislature voting for the noble cause and giving a boost to for LGBT rights in the country, celebrations can be seen on the streets. Now with the new law, the LGBT community can apply for same-sex marriages. Through this law, the LGBT community can now take benefits of the tax, insurance and child custody, earlier provided to only male-female married couples. Taiwan Becomes First Asian-Nation to Legalise Same-Sex Marriage. 
Earlier in the day, thousands of gay rights supporters gathered outside parliament despite heavy downpours, waving rainbow flags, flashing victory signs and breaking into cheers as the news filtered out.
Expressing happiness on the landmark judgement, professor of gender studies and communications management at Shih-Hsin University in Taiwan - Shiau Hong-chi - said, as reported by TIME, "It's a breakthrough, I have to say so. I could not imagine that could happen in just a few years."
Soon after the law was passed, international rights-based organisation Amnesty International's Secretary General Kumi Naidoo took to Twitter and wrote, "#LoveWon Well done #Taiwan and everyone who struggled for this! Will the rest of Asia follow? #LGBT"
Here's the Tweet:
Well done #Taiwan and everyone who struggled for this! Will the rest of Asia follow?#LGBT 🇹🇼https://t.co/vYYAGEWd92

— Kumi Naidoo (@kuminaidoo) May 17, 2019
It is to be known that conservative values, political systems and religious sentiments had discouraged LGBT activism and stopped the momentum toward same-sex marriage in many Asian countries, including Japan. However, Thailand is exploring the legalization of same-sex civil partnerships. Taiwan Voters Reject Same-sex Marriage in Referendum
Earlier in the 1990s, gay and lesbian relationships gained approval in society after leaders in today's ruling Democratic Progressive Party championed the cause to help Taiwan stand out in Asia as an open society. They promoted rights for sexual and ethnic minorities, women, the handicapped and others.